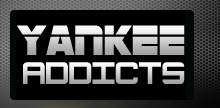 April 24, 2009 · Andy Lindberg · Jump to comments
Article Source: Bleacher Report - New York Yankees
The Boston Red Sox had no right winning this game.
The Red Sox and Jason "Canadian Bay-con" Bay jacked up Mariano Rivera (again) and Kevin Youkilis further demonstrated why he wants to be the 2009 MVP in a 5-4 walk off win over the hated New York Yankees Friday night.
The Sox grounded into four double plays and left a slew of runners on base, but somehow managed to scrounge up three runs to win the ballgame. With two outs in the bottom of the ninth, Jason Bay brought his Canadian cool to the batter's box and smoked a two-run shot off of Mariano Rivera to tie it.
Then, in the 11th, Kevin Youkilis sealed the deal.
Kevin Youkilis and his man-beard are on a tear. This was a game that had "Yankees win" written all over it. OK, I know I'm a Sox fan, but in watching all of their games to this point, this is a HUGE win for Boston. Stuck in a rut offensively for part of the year and struggling to find a groove, the Red Sox added on to their winning streak in dynamite fashion.
Manny who?
On the other side, the Yankee bullpen needs serious help. Joba Chamberlain, although he had a decent start, is not built to start. He needs to be a gas thrower in the bullpen for New York to be successful. The Yankee 'pen will be their downfall this year.
Maybe Teixeira should learn to pitch.