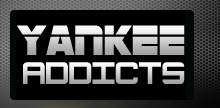 May 7, 2009 · Andy Lindberg · Jump to comments
Article Source: Bleacher Report - New York Yankees
In an
article posted
on the New York Yankees website regarding the 50 game suspension of Manny Ramirez, writer Anthony DiComo wrote:
"The natural reaction of those in the Bronx is to wonder what might have been that October. If it was indeed steroids that triggered Ramirez's positive test for performance-enhancing substances, then has the validity of the Red Sox's 2004 World Series title taken a hit?"
This was in reference to the 2004 ALCS, where the Red Sox came back from three games down to beat the Yankees in four games.
Are you kidding me?
First of all, the Yankees were up three games to none and legitimately choked.
And let's look at Ramirez' stats that series.
DiComo mentions that Ramirez batted .300, but leaves it at that.
I wonder why?
Oh, maybe it's because during the 2004 ALCS Manny Ramirez did not hit a single home run and did not have one single RBI.
Are you kidding me, Yankee fans? Are you actually serious here?
You're going to question the 2004 Red Sox validity over this positive test for Ramirez.
Please try.
No home runs and no RBIs. Hm, what an impact Ramirez made.
But maybe Manny scored a lot of runs.
Oh, nope.
He scored three runs in seven games.
Now, Manny has tested positive for hCG—a masking agent. So he has not tested positive for an actual PED or steroid.
A-Rod, on the other hand, tested positive for and admitted to taking Primobolan—a steroid.
In the 2004 ALCS, Alex Rodriguez hit two home runs, had five RBIs and scored eight runs.
Compared to Ramirez, A-Rod was a freak.
But the Yankees still lost in the biggest comeback in the history of the game. Yet, Yankee fans and writers are trying to find that one black mark to take away what the 2004 Red Sox earned.
Maybe wonder how Mark Bellhorn, a career .233 hitter hit two home runs and knocked in four RBIs that series.
Maybe wonder how Trot Nixon hit a homer and knocked in three.
But the big boy was Big Papi. David Ortiz mashed three homers and had 11 RBIs.
And you're going to try to take this away from Boston over Manny? Really?
What about Kevin Millar working a walk against Mariano Rivera in Game Four, then being pinch run for by Dave Roberts?
The whole ballpark, no, the whole world knew Roberts was going to steal, yet Rivera and Posada could not keep Roberts at first base. Bill Mueller knocked in his only run of the series right there, tying Game Four and sending it into extras.
Maybe explain how Derek Lowe went 2-0 with a 2.92 ERA that series?
The point is that yes, Manny Ramirez probably took steroids.
But Alex Rodriguez definitely took steroids.
Gary Sheffield has been linked to the juice along with arguably the best closer in recent history, Mariano Rivera.
Rivera gave up one earned run all series.
That very run was the spark the Red Sox needed to win it all.
So shut up about Ramirez. He did nothing in the 2004 ALCS. But small-time role players and gutsy pitching from a starter banished to the bullpen to start the playoffs beat the mighty Yankees.
Oh, and A-Rod's slap sure didn't help, either.