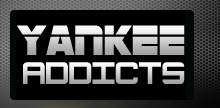 April 27, 2009 · Andy Lindberg · Jump to comments
Article Source: Bleacher Report - New York Yankees
The Yankees' bullpen and front office miscues are going to keep the Yankees from being respectable this season. After spending close to half a billion dollars on three players in the off-season, the Yankees did not put any focus into their bullpen.
Brian Cashman has screwed this team.
Now, I'm a Sox fan, so I love the fact that the Yankees are having a tough time, but I can't stand to see a guy like Joe Girardi take the fall for this. It is in no way the manager's fault.
The Yankee organization is too full of misplaced pride to suck it up for a two to three years and rebuild their team and bring up great prospects.
The Yankees didn't need Mark Teixeira when they had already gotten Nick Swisher (who is on fire) for a much lower price. I could see CC Sabathia or AJ Burnett, but not both for that long and that much money.
Burnett is coming off a bombing from the Red Sox, and Sabathia has been a wildcard so far. Not to mention his contract length is absurd.
The Yankees have long-term and expensive contracts with Alex Rodriguez, Mark Teixeira, AJ Burnett and Sabathia. This prevents them from investing a lot of money into their farm system, especially with a brand new stadium to finance.
The Yankee team ERA is 6.26. Burnett is coming off an 18-win season, but had 12 losses and a 4.07 ERA.
The last pitcher that had an 18-win season during his contract year that that the Yankees (and Cashman) decided to invest in was Carl Pavano. Cashman's priorities are all wrong.
You can win every year with money, but not when that money is spent poorly. The Red Sox are winning because they have invested a ton of money into scouting and their farm system.
Out of the starting lineup, the Red Sox have home grown stars in Dustin Pedroia, Kevin Youkilis, Justin Masterson, Jonathan Papelbon, Jon Lester, Jacoby Ellsbury and plenty of others who are on the fast-track to the majors. The Yankees have Derek Jeter, Andy Pettite, Joba Chamberlain, Mariano Rivera, Jorge Posada and Robinson Cano along with a plethora of bullpen rookies who are not performing well and a slew of bench players.
The Red Sox are not in the business of grooming bench players. The Yankees seem to be in the business of grooming backups to their high-priced free agent acquisitions.
Girardi is going to do the best he can with what he is provided. With A-Rod on the shelf, that's the best he can do.
Instead of blaming the manager, Yankee fans and press should start blaming the front office for screwing this team's future. The Mets have done the same thing.
Omar Minaya turned that team into a geriatric ward and the Mets have folded every year since. So what happened? Willie Randolph, a very solid and improving manager got fired and Minaya kept his job.
The Yankees are bad because of bad signings and decisions. The only thing Girardi can do that will seriously help this team is smarten up and put Chamberlain where he was born to be: throwing 100mph from the bullpen. Bring up Hughes and Kennedy for Chamberlain's starter spot.
Even the Yankees have to rebuild every so often. They need to wise up now before they get stuck in an 86-year drought.