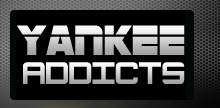 News published by
June 12, 2016
Hours after the Texas Rangers released Ike Davis from his minor league contract, the first baseman agreed to ink a major league contract with the New York Yankees, according to Today's Knuckleball's ...
June 12, 2016
The New York Yankees boast one of MLB's deepest bullpens, and teams are reportedly starting to do their homework on reliever Aroldis Chapman in advance of the July 31 trade ...
May 6, 2016
The start of the New York Yankees' 2016 season has been a nightmare, and things got worse Friday when the team announced starting pitcher CC Sabathia was placed on the ...
April 24, 2016
New York Yankees designated hitter Alex Rodriguez was removed from Sunday's game against the Tampa Bay Rays with left oblique stiffness. It is uncertain when he will return to action. Continue ...
December 28, 2015
At one point, closer Aroldis Chapman appeared destined for the Los Angeles Dodgers. Investigations into an alleged domestic violence incident, however, squashed those plans and forced the Cincinnati Reds to pivot. Now, ...
October 7, 2015
The New York Yankees were eliminated from postseason play Tuesday after falling to the Houston Astros, 3-0, in front of their home crowd, and general manager Brian Cashman took some ...
October 1, 2015
Following a two-year postseason absence, the New York Yankees guaranteed they'll be playing playoff baseball in October again thanks to a 4-1 win over the Boston Red Sox on Thursday. The victory ...
June 19, 2015
Days after recording his 2,000th career RBI, Alex Rodriguez has joined another exclusive club.  The New York Yankees designated hitter became just the 29th player in MLB history to record 3,000 hits ...