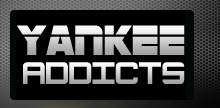 June 19, 2015 · Alec Nathan · Jump to comments
Article Source: Bleacher Report - New York Yankees
Days after recording his 2,000th career RBI, Alex Rodriguez has joined another exclusive club.
The New York Yankees designated hitter became just the 29th player in MLB history to record 3,000 hits when he smacked a solo home run in the first inning against the Detroit Tigers on Friday, according to Major League Baseball:
Rodriguez is now just the second Yankee ever to record 3,000 hits after Derek Jeter accomplished the feat four years ago.
On June 20, Rodriguez thanked the fans and his teammates:
Known baseball collector Zack Hample was the man who recovered the ball, and he claims he isn't going to give it back:
Remarkably, Hample addressed what he would do in this scenario a day before acquiring the ball:
ESPN Stats & Info pointed out that Rodriguez is one of only three players to have homered for his 3,000th hit:
Matt Meyers of MLB.com noted he is the first No. 1 overall pick in MLB history to reach the milestone.
"That's a huge accomplishment," Yankees catcher Brian McCann said Wednesday, according to the New York Post's Zach Braziller. "Three thousand hits is incredible, 2,000 RBIs. His career has been amazing. He's one of the best players to ever put on a uniform."
Bleacher Report congratulated Rodriguez on his milestone on Instagram:
According to Baseball-Reference.com, all but three players in the 3,000-hit club have been elected to the Baseball Hall of Fame, although that list is almost certain to shrink to two players when Jeter becomes eligible in 2020. The other two are all-time hit leader Pete Rose and former Texas Rangers slugger Rafael Palmeiro, each of whom purveys a stigmatized resume.
"Players who have been linked to performance-enhancing drugs, including [Barry] Bonds, have not been voted into the Hall," ESPN.com's Andrew Marchand wrote. "Rafael Palmeiro, with 3,020 hits, 569 homers, a congressional finger wag and a PED suspension, fell off the ballot after four years."
While questions regarding his potential enshrinement in Cooperstown will linger following admissions of performance-enhancing-drug use, Rodriguez is primed to climb higher up the all-time hit list during a season that's been marked by a relative resurgence.
"I think we would all take a do-over in some parts of our lives," Rodriguez said, per Marchand. "There are no do-overs. All I can do now is control what I can control. I'm having a lot of fun playing ball."
With 61 hits already under his belt during the 2015 campaign, A-Rod should have no problem surpassing some batting legends as he wields a hot bat. Now tied with Roberto Clemente—who finished his career with an even 3,000—Rodriguez has his sights set on Al Kaline, Wade Boggs, Palmeiro and Lou Brock.
Although the 39-year-old's career has been mired in controversy over the past few years, there's no denying he will go down as one of the greatest hitters in MLB history.
Read more New York Yankees news on BleacherReport.com