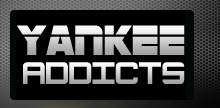 October 7, 2015 · Alec Nathan · Jump to comments
Article Source: Bleacher Report - New York Yankees
The New York Yankees were eliminated from postseason play Tuesday after falling to the Houston Astros, 3-0, in front of their home crowd, and general manager Brian Cashman took some time afterward to reflect on a deal that nearly materialized at this summer's trade deadline.
According to LoHud.com, Cashman told reporters the Yankees turned down a proposed deal that would have sent pitcher Adam Warren and second baseman Rob Refsnyder to the Oakland A's for utility man extraordinaire Ben Zobrist.
Zobrist was ultimately traded to the AL Central-champion Kansas City Royals in exchange for minor league pitchers Sean Manaea and Aaron Brooks.
Since joining the Royals at the trade deadline, Zobrist has batted .284 with a .364 on-base percentage and .453 slugging percentage. Although he's appeared in just 59 games for the Royals, Zobrist's mark of 1.6 offensive wins above replacement ranks seventh among all Kansas City players.
Despite Zobrist's second-half prosperity, Cashman made a wise move by standing pat and not mortgaging valuable future pieces in exchange for a half-season rental. According to Spotrac, Zobrist is set to become a free agent at the end of the season, at which point he won't be tethered to the Royals and he'll be free to find long-term security elsewhere.
Refsnyder made his MLB debut on July 11 as the Yankees scrambled for solutions at second base, but he was optioned back to Triple-A on July 19. However, the Yankees promoted the 24-year-old back to the big leagues prior to September, and he impressed in 16 total regular-season appearances.
In a small, 47 plate-appearance sample size, Refsnyder batted .302 with two home runs and five RBI while recording an on-base percentage of .348. He even started Tuesday night's Wild Card Game but failed to record a hit.
Prior to the postseason, manager Joe Girardi told reporters, "We like the way he's swung the bat and defensively, he's done a good job," according to the New York Post's Dan Martin.
Warren was also solid for the Yankees in spots. The 28-year-old posted a 3.29 ERA as he went 7-7 and notched a career-high 104 strikeouts in 131.1 innings.
Zobrist would have given the Yankees some more peace of mind at second base as Stephen Drew flirted with the Mendoza Line, but holding on to two inexpensive, cost-effective youngsters instead of taking a shot on a two-month flier will help New York in the long run.
All statistics courtesy of Baseball-Reference.com.
Read more New York Yankees news on BleacherReport.com