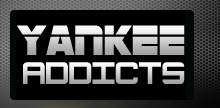 October 1, 2015 · Alec Nathan · Jump to comments
Article Source: Bleacher Report - New York Yankees
Following a two-year postseason absence, the New York Yankees guaranteed they'll be playing playoff baseball in October again thanks to a 4-1 win over the Boston Red Sox on Thursday. The victory was also the 10,000th in franchise history.
According to the New York Times' Tyler Kepner, the game's final out was also historic:
With the wild-card berth, New York has now made 23 more postseason appearances than any other team in MLB history, per ESPN Stats & Info:
The Yankees' official Twitter account celebrated the evening's other big milestone:
Following the on-field celebration, the Yankees took to the clubhouse to pop champagne, per Baseball Tonight:
Shortstop Didi Gregorius posted a video of the festivities:
While the Yankees got off to a modest 26-25 start, they hit their stride during the dog days of summer. After going 15-12 in June, New York walloped the competition to the tune of a 17-7 mark in July. During that stretch, the Yankees batted a season-best .275 with a collective .344 on-base percentage while ascending to the top of the American League East.
A 14-14 August that coincided with the Toronto Blue Jays' 21-6 post-trade-deadline explosion brought the men in pinstripes down a peg, but they stayed competitive and banged down the postseason barrier.
Buoyed by stellar power, New York has been one of baseball's elite teams when it comes to pushing runs across the plate.
Back from a season-long performance-enhancing-drug suspension, Alex Rodriguez assumed vintage form and provided a jolt by crushing more than 30 home runs for the first time since 2010. In July, A-Rod spoke to Sports Illustrated's Tom Verducci about his comeback:
One thing I've been this year is consistent. Even in my really good years, I'd have some periods—two, three weeks—where I just looked terrible. It was always because of tension, trying too hard. Now I'm just happy and relaxed. I've been more consistent because of that.
Mark Teixeira also boosted the Yankees' offerings at the plate before a right shin fracture ended his season early. In 111 games, Teixeira batted .255 with 31 home runs—his most since 2011. However, the Yankees were able to plug Greg Bird into the lineup and receive more than 40 dingers combined from their starting first basemen.
Coupled with Carlos Beltran's improved production during his second season in pinstripes, the team evolved into an offensive powerhouse.
Entering the postseason, the Yankees' primary concern will be their ability to keep the runs flowing while finding sources of consistency on the mound. Manager Joe Girardi's club ranks around the league average in ERA, and shaky, injury-riddled seasons from CC Sabathia and Masahiro Tanaka have left the team without a true starting ace.
Right-hander Nathan Eovaldi started to look like a workhorse after the All-Star break, but elbow inflammation cut his regular season short. Now the Yankees hope the 25-year-old can return in time to offer stability in some capacity.
And even if question marks abound, the Yankees and their fans can celebrate a return to the postseason as they prep for a wild-card showdown next Tuesday (8 p.m. ET on ESPN).
A trip back to the American League Championship Series may fall on the optimistic end of the spectrum, but with a power-packed lineup that can put up runs in a hurry, New York has the raw talent to pull off a stunner.
Read more New York Yankees news on BleacherReport.com