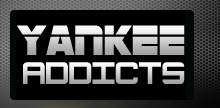 News published by
March 9, 2012
Earlier today, David Robertson was seen at George M. Steinbrenner Field with a walking boot on his right foot and on crutches. This was not the sight Yankee fans want ...
March 8, 2012
Spring training is under way and everybody wants to know how the New York Yankees will fare in 2012.Some players will regress, some will improve and some will come out ...
March 7, 2012
Ever since Michael Pineda joined the New York Yankees, people have been scrambling for a comparison. Yankee fans are so anxious to see Pineda in action in a regular season ...
March 5, 2012
Michael Pineda made his first start for the New York Yankees against the Philadelphia Phillies.Yes, it is only spring training and not a regular season game in New York, but ...
February 11, 2012
Everybody loves an exciting play—it can be a game-changer and change momentum.Everybody's two favorite segments on ESPN are Sportscenter's "Top 10 Plays" and Baseball Tonight's "Web Gems." Everything from diving ...
February 8, 2012
The New York Yankees want to lower their payroll to $189 million by 2014. The best ways to lower payroll is to get younger and get rid of overpaid veterans. ...
January 26, 2012
Everybody keeps throwing out names like Hideki Matsui, Vladimir Guerrero and Johnny Damon when discussing who the New York Yankees' should acquire to help their offense in 2012.In the Michael ...
January 25, 2012
January is coming to a close, and free agency is wrapping up.Players like Albert Pujols, Prince Fielder, CJ Wilson, Jonathan Papelbon, Gio Gonzalez and Jose Reyes have new homes, while ...
January 24, 2012
The New York Yankees already have two very good young arms in New York in Michael Pineda and Ivan Nova, but what about in the minor leagues?Who do they have ...
January 24, 2012
The New York Yankees currently have seven starting pitchers and no DH.They also would love to shed AJ Burnett's contract.How can they accomplish all of this in a single move? ...