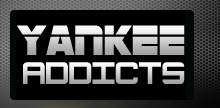 March 9, 2012 · Phillip Brown · Jump to comments
Article Source: Bleacher Report - New York Yankees
Earlier today, David Robertson was seen at George M. Steinbrenner Field with a walking boot on his right foot and on crutches. This was not the sight Yankee fans want to see from their All-Star set-up man.
It turns out Robertson was injured by stumbling down a flight of steps while carrying boxes.
David Robertson downplayed the injury, but any type of injury for the young pitcher is serious because of his importance to the Yankees.
"It's just a little sore right now," Robertson said. "I actually just slipped. I misjudged a step and rolled over it a little bit. Clumsy." (Source: ESPN)
We can only hope this injury is not the same Lisfranc injury that derailed Chien-Ming Wang's Yankee career. Signs are pointing to it not being a Lisfranc injury due to a lack of swelling and most of the soreness being on the bottom of the foot, but any type of injury on Robertson's back foot could cost him regular season games.
Thankfully, his X-rays were negative for fractures, but his MRI revealed unspecified damage to his foot. Robertson also underwent a weight-bearing X-ray and CAT scan, but the results will not be released until Dr. Chris Ahmad, a Yankee team physician, and Dr. Justin Greisberg, a foot specialist, evaluate the scans.
If it is in fact a Lisfranc injury, they will have to first determine how severe the injury is. Is the ligament torn, or sprained? Is there cartilage damage? The negative X-rays rule out a fractured bone, but the weight-bearing X-ray will show any torn ligaments or damaged cartilage by a widening of the gap between the first and second metatarsals in the mid-foot.
The prognosis for a Lisfranc injury, depending on the severity of the ligament and cartilage damage, is six to eight weeks of non-weightbearing. There will be a long period of time between walking and pitching, but the timetable is nearly impossible to predict because it is an injury with many degrees of severity.
All we can do is hope it is just a normal mid-foot sprain.
Joe Girardi said the injury has "some cause for concern" and "I'm concerned, because the way I saw him walking today, it hurt him to walk." Those are not encouraging words from the Yankee skipper, but until the tests come in and the exact nature of the injury is determined, there is no prognosis or timetable for Robertson's return to the mound.
Girardi noted that if Robertson misses more than two weeks of spring training he will likely miss Opening Day.
The Yankees need David Robertson back in their bullpen as soon as possible, but they cannot afford rush him back from an injury.
Luckily, the Yankees have one of the best sets of team physicians, training and recovery staff in the majors. Robertson is in good hands.
Read more New York Yankees news on BleacherReport.com