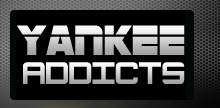 February 8, 2012 · Phillip Brown · Jump to comments
Article Source: Bleacher Report - New York Yankees
The New York Yankees want to lower their payroll to $189 million by 2014. The best ways to lower payroll is to get younger and get rid of overpaid veterans. Players like A.J. Burnett and Rafael Soriano will be gone by 2014, so there goes a couple overpaid veterans, but what about younger players?
Every team covets prospects but every team has a reason to trade a young top prospect. Sometimes it is because of a logjam at a certain position or because they want to sell their future in order to win now. Either way the Yankees can take advantage and stockpile young talent for the future.
Which prospects could the Yankees target in order to get younger?
Let's find out.