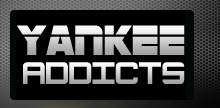 News published by
May 4, 2012
With Mariano Rivera out for the season, as it stands today, the Yankees will not win the World Series.  They can't.  They simply do not have the pieces a championship ...
May 20, 2010
Yes, yes they should.  That's the answer to the headline.  If you got it right, good for you.   If you are actually dumb enough to have disagreed with me, just ...
November 7, 2009
It has been brought up countless times, By owners and fans alike, "The MLB needs a salary cap."   Every year the argument is renewed, and with five of the eight ...
September 10, 2009
Unless you spent your Labor Day weekend in Antarctica or some other place that Sports Center doesn't yet broadcast, you may have noticed that Derek Jeter is about to ...
June 10, 2009
Last night, David Ortiz came to the plate at Fenway Park and did something he had only done twice before in this season: He hit a home run. All of Boston ...
May 12, 2009
Hey A-Rod, As a lifelong fan of the New York Yankees, I'd like to welcome you back to the team.  We've missed your bat, your presence in the line up, and ...
April 28, 2009
Take a look at that picture.  Now, I'd like to say first that it is a little deceptive.  This picture was taken late during the horrendous 4-22 loss to the ...
April 25, 2009
It may be early, but it wouldn't be baseball season if the Yankees weren't in chaos.  That is what it looks like, at least. After a second consecutive frustrating loss to ...
April 25, 2009
It's official.  According to their official web site, the Yankees placed Chien-Ming Wang on the DL after the crushing 5-4 extra-inning defeat to the Red Sox last night for weakness in ...