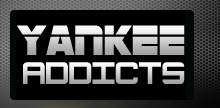 April 25, 2009 · Kevin H. MacLean · Jump to comments
Article Source: Bleacher Report - New York Yankees
It's official.
According to their official web site, the Yankees placed Chien-Ming Wang on the DL after the crushing 5-4 extra-inning defeat to the Red Sox last night for weakness in Wang's adductor muscles in both hips. The Yankees credit the discovery of Wang's ailment to world renowned doctor Mark Lindsay, who was with the Yankees' camp checking in on Alex Rodriguez. The injury is related to Wang's season ending foot injury last year.
Wang had gotten off to an uncharacteristically abysmal start to the season posting a 34.50 ERA in just six innings over three starts. Wang's career ERA previous to this season was below 3.80.
The Yankees were under pressure to either figure out a way to quickly fix Wang's early season woes or find something to put him on the DL for. After choosing the latter it is likely that minor league pitcher and perpetual Yankees prospect, Phil Hughes, will get the start next Tuesday against the Detroit Tigers in Wang's stead.
The Yankees GM Brian Cashman said that Wang will stay in Tampa for at least a week in order to undergo physical therapy. Cashman did not give a timetable for Wang's return.
Some might speculate Wang's placement on the 15-day disabled list could just be an excuse to give the Yankees a little time to figure out exactly what is wrong is their most consistent pitcher of 2006 and 2007.
The Yankees have called up minor league pitcher David Robertson from the Triple-A Scranton/Wilkes-Barre Yankees to give the team some extra bullpen relief for the remainder of the Boston series.