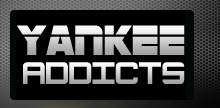 April 25, 2009 · Kevin H. MacLean · Jump to comments
Article Source: Bleacher Report - New York Yankees
It may be early, but it wouldn't be baseball season if the Yankees weren't in chaos. That is what it looks like, at least.
After a second consecutive frustrating loss to the Boston Red Sox Saturday afternoon, the Yankees announced that third baseman Cody Ransom and reliever Brian Bruney would be joining struggling starter Chien-Ming Wang on the disabled list.
All three players were placed on the 15-day DL, but it is likely that each of them will spend at least two to three weeks out of action.
The news about Wang came after Saturday's extra-inning heartbreaker to Boston. Wang will likely miss at least two weeks with weakness in his adductor muscles in both hips.
Bruney, one of the few bright spots in the Yankees bullpen early, has a strained flexor mass in his right elbow. The injury is not serious, but he will almost certainly be gone for close to three weeks.
The most serious injury appears to be Ransom's, who was forced to leave the game on Saturday after injuring his quadriceps attempting to steal second base. Team trainers immediately identified the injury as a DL situation, according to manager Joe Girardi.
Ransom, who had been playing third base for the injured Alex Rodriguez, was especially frustrated with the injury.
"I pieced together a few games in a row there and started feeling better at the plate," he said. "I'm definitely disappointed about it. It's the first time anything like this has ever happened to me."
Ransom had gotten off to a modest start, batting just .180 with six extra base hits, no home runs, and one stolen base. His offense was not expected to be able to make up for the ailing A-Rod, but his loss is certainly another step back for the suddenly struggling Yanks.
To make up for the sudden loss of players, the Yankees called up infielder Angel Berroa and pitchers Mark Melancon and Dave Robertson from their Triple-A Scranton/Wilkes-Barre affiliate. Phil Hughes is likely to get Wang's next start in the rotation, facing the Detroit Tigers next Tuesday.
Much in the way that great teams on a roll always seem to find a way to win, the floundering Yankees have been finding ways to lose, and it could not be more maddening for their fans. Coming off a three-game winning streak, the Yankees blew leads late on both Friday and Saturday against the rival Red Sox in incredible fashion. Both games saw the Yankees dominate early only to pass up on many chances to put the game away and allow Boston to win late. The most telling statistic is perhaps the Yankees' combined 7-for-36 RISP and 27 LOB through Saturday.
It is far too early in the season for the Yankees to start to truly panic, and it is better to see these losses come early rather than late, but it does not make them any easier to watch. They may have a great new stadium, a sky-high payroll, oodles of All-Stars, and the most talented team money can buy, but right now I think the Yankees would trade all of that in for some stability and a few quality wins.