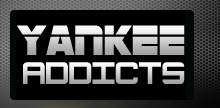 June 10, 2009 · Kevin H. MacLean · Jump to comments
Article Source: Bleacher Report - New York Yankees
Last night, David Ortiz came to the plate at Fenway Park and did something he had only done twice before in this season: He hit a home run.
All of Boston roared and showed their unwavering support for their latest baseball hero. Like, Ortiz himself, they don't want to believe what so many journalists and analysts have been bedrudgingly reporting since the third week of the season: Big Papi is washed up.
The Fenway Faithful stood and cheered, but they aren't the only ones who can get excited by Ortiz's show of power. I am, of course, referring to Yankee Fans.
Yankee fans across the globe were probably less than thrilled when they saw Ortiz belt one to center field (one of the deepest parts of Fenway) to give the Sox an early two-run lead over the Yanks in what would go on to be a rout last night.
It is something in Yankee fan DNA: You never want to see a Red Sox perform well, particularly against the Yankees (just realized, there is no singular form of the word "Red Sox"…way to go poor spelling Bostonians). But if you look at the big picture, who was really hurt more by Papi's home run last night, the Yankees or the Red Sox?
Ortiz's numbers—home runs, RBIs, Runs scored, and even walks—have all dropped significantly since 2007, what will probably be remembered as Papi's greatest season. Despite his constant assurance that he is simply in the middle of a horrific slump, countless articles have been written over the last month lamenting the demise of Papi.
Even famous Boston sports writers (and Bonafide Yankee-Haters) Bill Simmons and Dan Shaughnessy resigned themselves to the fact that this truly may be the end of the line for Ortiz.
The Red Sox front office was another group of people that seemed to finally, at least, consider the fact that Boston may need to find someone else to fill their No. 3 spot in the order.
Former Yankee first baseman Nick Johnson (currently with the Washington Nationals) was a popular prospect in the rumour mill to fill the void that Papi's ghost has left in the line up.
Nabbing Johnson would put a .300+ bat with moderate power into their lineup and would almost certainly spell the end of Ortiz in Boston. But with Ortiz's slight increase in production over the last two weeks, trade talks have been put on the back burner.
Red Sox fans, at least for the moment, could not be happier with Papi and his seven-game hitting streak. Who cares if he only has three home-runs and a .198 batting average?
But before Yankee fans cringe and hang their heads at the prospect of the return of Papi, I implore them to look at the silver lining.
Remember last season when Manny decided it was time to finally start actually being Manny (and by "Manny" I mean a selfish child)? Well, what if Manny didn't completely give up, but played just well enough to the point where the Sox couldn't justify trading him?
Do you think Boston would have seen the same success last year without Jason Bay?
In his first 202 ABs Ortiz has a meager 40 hits; in order for him to salvage even a modest .250 BA for the season he would need to accumulate 72 more hits this season (in 450 ABs). That means he would need to hit .290 the rest of the way, hardly a realistic expectation.
Ortiz may have hit a home run last night, but it was his only hit, and he went on to leave four men on base. In fact, Ortiz only has eight multi-hit games all season and none in which he has had more than two hits. Compare that to his twenty hitless games so far.
Right now, the best thing for the Yankees would be for Ortiz to get just hot enough to make it a PR impossibility for the Sox office to trade him.
Last year, the Yankees just missed getting this lucky when Manny Ramirez finally decided to show his true colors. This year, Yankees fans need to keep their fingers crossed that Ortiz can tread water just long enough to take the whole team down with him when he finally goes under.
So Yankees fans, don't fret over one home run. Allow Ortiz to stick around and continue to struggle it out for the Sox the rest of the season, hitting .230 and a home run once every two weeks.
Boston's love for Big Papi could be the best thing that ever happened to a New York baseball team since Grady Little loved Pedro Martinez.