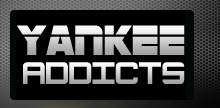 News published by
February 3, 2012
While big free agent signings can be the dominating factor in a fan's excitement about a team's upcoming season, the thought of an electric prospect or those new acquisitions taking ...
January 2, 2012
The 2011 baseball season produced many players having fantastic seasons, putting up monster numbers to help their teams win and to give fantasy owners a tremendous treat, with players like ...
December 2, 2011
December has arrived, which means the heating up of offseason maneuvers in major league baseball. The cold-hard-truth is that the Yankees have not joined the party so far.  They are ...
November 21, 2011
It has been a very successful three years for Mark Teixeira in New York. He has been accepted and eventually loved by the crowd for his ability to not only ...
November 16, 2011
The Yankees, like most teams in baseball, are in the hunt for prime pitching this offseason.  Though their rotation was decent in 2011, it has to be improved with both ...
November 3, 2011
The New York Yankees have been recognized for their championships and superstars over the past 100 years. Babe Ruth hit booming home runs and set eternal records and Mickey Mantle dashed ...
November 1, 2011
After much anticipation, but probably little panic by fans and the front office, C.C. Sabathia is back in pinstripes for 2012.  That's obviously good news for the Yankees, but retaining ...
September 21, 2011
It seems like forever since Mariano Rivera's subtle fist pump near first base in Game 6 of the 2009 World Series, verifying his fifth title and the Yankees' 27th in ...
September 15, 2011
When push comes to shove in MLB's free agent market, the New York Yankees usually do both, jostling their way to the top of every player watch list in their ...
September 7, 2011
About a year ago, Curtis Granderson and Yankees hitting coach made some adjustments to his swing, basically making his swing more compact, allowing him to unleash a quicker bat with ...