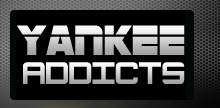 November 1, 2011 · Josh Schermerhorn · Jump to comments
Article Source: Bleacher Report - New York Yankees
After much anticipation, but probably little panic by fans and the front office, C.C. Sabathia is back in pinstripes for 2012. That's obviously good news for the Yankees, but retaining him and other pieces somewhat reflects on what could be a downward trend for the team in the coming years.
Along with the their ace, second baseman Robinson Cano and right fielder Nick Swisher will also be returning next season, both reasonable decisions (though Beltran may be a better option for the money than Swisher). They also locked in their general manager, Brian Cashman, the mind behind so many memorable trades and championships in the last 15 years. None of these signings address the issues at hand, however, which include both personnel and attitude problems that have boiled into a dead end for the Bombers.
Like all teams, dealing with Father Time can be the biggest dilemma, and no team will have more of a head-on collision with him than the Yankees. Sure, Jorge Posada's time is up, and Mariano Rivera will have a smooth exit onto the pinnacle of pitching history, but that still leaves many ailments.
Let's start on the left side of the infield, where two of the game's greatest players are reaching the end of two very proud and successful careers. Alex Rodriguez, a ridiculed, scrutinized, and hated player among numerous fans, is starting to show that maybe, just maybe, his downswing is in sight, obtaining a multitude of injuries that hinder his ability to be the clean-up hitter he should be.
That's not even including his horrendous postseason performances (outside of his timely 2009 postseason that helped the team win the World Series). What can the team do with a soon-to-be 37-year-old superstar? If his health and performance do not pick up in 2012, they are stuck with the worst contract in baseball history and a decaying-but-Hall-of-Fame career.
Next to A-Rod is Derek Jeter. The Captain answered his critics once again in 2011, putting up a solid year at shortstop. Those critics will be waiting like vultures around him next season as well, waiting to pounce on his fall from grace. Eventually, Jeter will fall and not get back up, and there is no apparent answer for that problem as well. Is it too early to line up Jeter's replacement? Rivera's plan is clear as day, and it's two years away. Maybe it's time for the Yankees to address what could turn into a disastrous situation down the road.
There is also the pitching staff, which outside of Ivan Nova could be considered ancient in baseball terms. Obviously, the return of Sabathia is nothing short of a blessing for the team. He has been tremendous for the Yankees, and though he came up short in the 2011 playoffs against the Tigers, there is no reason to not count on him in any big game.
With that said, Sabathia can't pitch every game, and the rest of the lot can barely be trusted to pitch any big game. Nova was impressive in all of 2011, showing a combination of a great competitive nature and an even better skill set. If he can be the man behind Sabathia in the rotation, that's great, but if not, the team is in real trouble.
Yes, New York struck magic with A.J. Burnett against the Tigers, where a miraculous-but-misplayed catch by Curtis Granderson seemingly propelled the right-hander to a win (the Yankees also scored 10 runs in that game). Judging by the rest of his season, however, it would be impossible to repeatedly trust him in any situation that's worth anything.
All of these problems don't seem to spell a winning formula down the road, be it next season or five years from now. The Yankees may be about to stand pat for the first time in a decade, and it might be the first time in a decade that they shouldn't be. Without a serious upgrade on the right side of the plate and in the rotation, a playoff berth alone might be a good accomplishment in 2012.
Read more New York Yankees news on BleacherReport.com