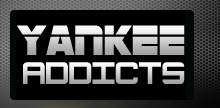 November 3, 2011 · Josh Schermerhorn · Jump to comments
Article Source: Bleacher Report - New York Yankees
The New York Yankees have been recognized for their championships and superstars over the past 100 years. Babe Ruth hit booming home runs and set eternal records and Mickey Mantle dashed across the outfield, dazzling the world with his effortless ability.
What can sometimes go unnoticed are the pitchers in pinstripes. Unlike the Atlanta Braves, who built their current legacy on Hall-of-Fame pitching, the Yankees have done it with their bats. Without their pitching, however, the Bombers would have significantly fewer championships.
The question is, who is the best of all time?
Well, here they are, the 25 greatest pitchers the Yankees have ever had, ordered from back to front.