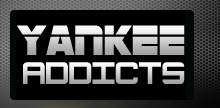 November 21, 2011 · Josh Schermerhorn · Jump to comments
Article Source: Bleacher Report - New York Yankees
It has been a very successful three years for Mark Teixeira in New York. He has been accepted and eventually loved by the crowd for his ability to not only hit the long ball, but field the ball like few first basemen in the game can. He has won a title (2009), an objective of his coming to the team.
His play in the postseason, however, has left some questions of whether or not he will be able to sustain the offense needed to succeed in October. His power for the regular season has maintained, but his average has been decreasing each year since joining the Yankees, looking more like a dead power hitter instead of a versatile switch-hitter.
With great first basemen like Prince Fielder and Albert Pujols up for grabs, could it be worth it trade away the Gold-Glove-winning, power-hitting Mark Teixeira for other pieces to the playoff puzzle? Here are six teams that may answer that call.