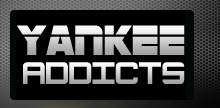 News published by
June 26, 2009
Two weeks ago today, the Mets endured one of the toughest regular season losses in franchise history when Luis Castillo dropped a pop-up with two outs, allowing the tying and ...
June 22, 2009
The baseball season has finally kicked into high gear as we've officially entered the summer months. There are still no clear favorites in either league, with the exception of the Dodgers ...
June 14, 2009
If you didn't watch today's game between the New York Mets and New York Yankees, I envy you.  I am a baseball junkie, I love to just watch the game; Any ...
June 13, 2009
Fernando Nieve tossed 6 2/3 effective innings in his first start as a Met, Omir Santos and Gary Sheffield added home runs and the Mets defeated the Yankees 6-2 at ...
June 8, 2009
To be a Met fan, you must be prepared for anything.  The Mets are baseball's Bizarro Team. They win and lose games in inexplicable fashion and they do the exact opposite ...