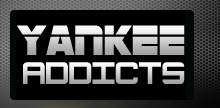 June 8, 2009 · How Bout Them Mets · Jump to comments
Article Source: Bleacher Report - New York Yankees
To be a Met fan, you must be prepared for anything.
The Mets are baseball's Bizarro Team. They win and lose games in inexplicable fashion and they do the exact opposite of what everyone expects them to do.
You can say they play up or down to the level of their opponent. They can look like bums against the second division teams and then a week later sweep the team with the best record in baseball.
Don't ask me why this happens. Perhaps they read the newspapers, read about the significance of the game, and then play accordingly.
This week, the undermanned Mets play a three-game set against the first-place Phillies, then head up to the new Bandbox in the Bronx to play the Yankees.
Last year, the Mets went 11-7 against the eventual World Champs and 4-2 vs the Bombers. This year, the Mets are 3-1 against Philly, with the only loss a 6-5, 10-inning tooth extraction started by Oliver Perez.
I am predicting the Mets will win at least four of these next six games, if not more. They will look like contenders again until they go to Baltimore next week and get swept by the inept Orioles.
People will say "What is your logic behind this prediction?" and I will say what I always say.
THE METS AND LOGIC ARE TWO SEPARATE AND DISTINCT ELEMENTS AND NEVER THE TWAIN SHALL MEET.
Enjoy the games.