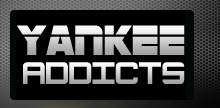 June 13, 2009 · How Bout Them Mets · Jump to comments
Article Source: Bleacher Report - New York Yankees
Fernando Nieve tossed 6 2/3 effective innings in his first start as a Met, Omir Santos and Gary Sheffield added home runs and the Mets defeated the Yankees 6-2 at the new Yankee Stadium Saturday afternoon.
Nieve worked quickly all afternoon and never allowed the powerful Yankee bats to find their rhythm. The Houston Astros castoff mixed a 91-94 mph fastball, an 83-86 mph slider, and an 83-85 mph changeup to near perfection, giving up just four hits and two walks. He also struck out two.
Sean Green came on in relief of Nieve in the seventh after Melky Cabrera and Brett Gardner hit back-to-back singles with two outs. After Derek Jeter's infield single drove in Cabrera, Green got Johnny Damon to ground out to Fernando Tatis at first to end the inning.
Green then pitched a perfect eighth before handing the ball over to closer Francisco Rodriguez who pitched a perfect ninth to seal the Mets Victory.
The Mets jumped on Yankees starter Andy Pettite early and never looked back. With two outs in the second inning, and Fernando Tatis on second, catcher Omir Santos hit a solid line drive to left centerfield that just cleared the fence to give the Mets a 2-0 lead.
Alex Rodriguez responded in the bottom of the inning hitting a towering solo homerun to left that seemed to hang in the air forever to cut the Met lead in half. FOX analyst Tim McCarver said it was one of the highest home runs he had ever seen. Nieve settled down after that and held the Yankees scoreless for the next five innings.
The Mets added to their lead in the fifth. Carlos Beltran led off with a single and David Wright doubled to set up Gary Sheffield who singled to right to bring in Beltran.
Fernando Tatis then hit a double play ball but beat the throw from second baseman Robinson Cano. The fielders choice scored Wright to make it 4-1. After Ryan Church struck out, Santos hit a double over Brett Gardner's head in center to score Tatis and push the Mets lead to 5-1.
Gary Sheffield added a solo home run in the seventh to make it 6-1 and put the game away for good.
The Mets rebounded very nicely from one of the toughest regular season defeats in franchise history. They blocked last nights' game out of their heads and did not let it have any lingering effects on their play today.
Jerry Manuel's bunch could very well have taken the first two games of this series but will have to settle for a rubber game tomorrow. The scheduled starters for the 1:05 game are Mets ace Johan Santana (8-3 2.39 era) while AJ Burnett (4-3 4.89 era) will go for the Yankees.
Harlan Green-Taub is a contributor to howboutthemmets.com