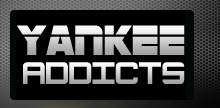 June 22, 2009 · How Bout Them Mets · Jump to comments
Article Source: Bleacher Report - New York Yankees
The baseball season has finally kicked into high gear as we've officially entered the summer months.
There are still no clear favorites in either league, with the exception of the Dodgers who have opened up an eight-game lead in the NL west. Certain players who have dominated MVP voting in the past have failed to live up to expectations this season.
Is Papi Back?
Sox fans have longed to hear it, David "Big Papi" Ortiz looks like he's finally back.
Papi homered again on Father's Day, raising his season total to six. Ortiz is starting to look more comfortable at the plate and took both of his home runs to left field, something we saw him do a lot in 2005 and 2006, the two best seasons of his career.
The last 16 months have been tough on Boston's folk hero. Ortiz, who heroically carried Boston to the 2004 World Championship, the Red Sox first title in 86 years.
He labored through his worst season as a Red Sox in 2008. Ortiz missed 60 games with a wrist injury and despite cranking 23 home runs, he struggled offensively, hitting just .264.
This season did not start any better. Ortiz hit just .230 in April with just 12 RBI. May did not go any better. Papi hit only .143 with 1 home run and six RBI.
June has been much better to Ortiz. Papi is hitting .308 with five home runs and 12 RBI, helping the Red Sox extend their lead in the AL East to four games.
Much like it's been in the past, the Red Sox win when Ortiz performs. Ortiz is hitting a respectable .270 with six HRs and 25 RBI in games the Red Sox have won. When the Sox lose, Ortiz is hitting a measly .124 (11 for 89), with no home runs and only five RBI.
A-Rod Struggling
Like Big Papi, Alex Rodriguez has endured a rough 10-month stretch.
The highest paid player, and arguably the best player in the game, failed to take the Yankees to the playoffs for the first time since 1993.
For all the reasons that the tabloids and newspapers gave for the Yankees failures, no one seemed to point the figure at Rodriguez, a rarity for the New York papers.
After enjoying a great first half in which he hit .312 with 19 home runs and 53 RBI, Rodriguez put up pretty average numbers in the second half.The Yankees third baseman hit .290 with 16 home runs and 50 RBI, and struck out 59 times in 231 at-bats.
In August and September, crunch time in the Pennant race, Rodriguez grounded into 12 double plays, and hit just .258 with 12 home runs and 38 RBI, not numbers you would expect for someone who is routinely in the MVP conversation.
This season obviously did not start any better. First came the admission of steroid use, then the hip surgery that kept him out for five weeks, then the pitch tipping scandal.
Once he hit the field for game action though, many assumed he would be fine, and after hitting a home run on his first swing back, it looked like it he would be.
In the 39 games since however, Rodriguez is hitting just .213 with nine home runs and 28 RBI, not exactly mammoth numbers.
The result, Rodriguez was benched for two games this weekend and will sit out at least one game a week in the three weeks leading up to the All-Star game.
This is not how it was supposed to be for Rodriguez. Hip surgery is not something you can come back from and play everyday as evidenced by Rodriguez's struggles.
The original plan was to have Rodriguez sit one game a week, not play everyday like he has. Good move by Yankees brass to force Rodriguez to sit and make sure he's healthy for the Pennant race. As we saw last year, the Yankees struggle when A-Rod struggles and they need him at 100% for the stretch run.
Other Quick Thoughts
Think the Rays are regretting trading Edwin Jackson? Jackson is 6'4″ with a 2.39 ERA while Tampa's fifth starters, Andy Sonnanstine and Jeff Niemman, are a combined 11-11 with a 5.44 ERA.
What a performance by Ryan Howard Saturday night. Howard, sick in the hospital with flu-like symptoms, got to the ballpark in time to smash a game tying three-run home run in the ninth inning in a 6-5 Phillies loss.
After losing eight of 12, the Mets sit at 34-33, just one game ahead of the third-place Florida Marlins. Seven teams in the National League, the Phillies, Cardinals, Brewers, Cubs, Dodgers, Giants, and Rockies, hold better records then the Mets. Things might stay the same for a while with Carlos Beltran just placed on the 15-day DL.
Speaking of the Rockies, they are now 16-5 since hiring Jim Tracy.
Albert Pujols sure loves playing in Kansas City. Pujols, who played high school and college ball in the area, hit three more home runs this weekend and now has 12 in 27 games at Kauffman Stadium.
The Cubs enjoyed back-to-back walk-wins on Friday and Saturday, the latter coming off a wild pitch from former ace Kerry Wood. Wood, who left in the offeason to become the Cleveland Indians closer, had to be hoping for a better return.
Nice job by Manny Acta and the Washington Nationals taking two of three from the Yankees in New York this week. It probably saved Acta his job for now.
Now onto the weekly awards:
AL Player of the Week: B.J. Upton, CF, Tampa Bay Rays.
Upton enjoyed a fabulous week, including hitting an absolute bomb to seal the Rays 10-6 victory against the Mets yesterday. Upton hit .429 (12 for 28), with 2 home runs, and 9 rbi's.
AL Pitcher of the Week: Felix Hernandez, SP, Seattle Mariners.
Hernandez carried a 20-inning scoreless streak into the eighth inning of Sunday's game against the D'backs before Mark Reynolds took him deep to put Arizona ahead 2-1. In his other start this past week, Hernandez tossed a complete game, two-hit shutout against the Padres.
NL Player of the Week: Ryan Braun, LF, Milwaukee Brewers.
Braun continued his surge into the MVP conversation with another great week. Against the Indians on Monday, Braun went 3-for-5 with a home run and five RBI. For the week, Braun hit .385 (10 for 26) with two home runs, eight RBI, and 10 runs scored.
NL Pitcher of the Week: Chris Carpenter, SP, St. Louis Cardinals.
Carpenter was masterful against the Royals on Saturday night. Carpenter allowed just one run and three hits over 7 2/3 innings, while getting the win. Carpenter lowered his ERA to 1.53 and is scheduled to make his next start Thursday against the Mets, when he'll face off against Johan Santana.
-Harlan Green-Taub
Harlan Green-Taub can be reached at crashman@nyc.rr.com