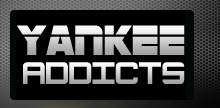 News published by
March 17, 2012
Yesterday brought on some rather surprising news as the Yankees signed Andy Pettitte to a minor league contract. They already had six starting pitchers for five rotation spots, which ...
February 1, 2012
Curtis Granderson not only had one of the best seasons in baseball in 2011, but no one could've predicted the numbers he was going to produce.  There's a ...
April 23, 2011
Moving out from behind the plate and working exclusively as the Yankees DH, Jorge Posada was supposed to be fantasy gold.  Despite being 39 years old, a player with his ...
April 20, 2011
Prior to the season, Brett Gardner was a popular selection for people looking for a pure speed option.There was talk of him hitting in the leadoff spot, making ...
April 4, 2011
When I posted my projection for Phil Hughes prior to the season (click here to view), I noted that I was concerned with him heading into the 2011 season.  I do ...
March 30, 2011
Heading into the season, while many felt the Yankees' best arrangement would be with Brett Gardner sitting atop the lineup, the constant chatter was that Derek Jeter would remain the ...
February 15, 2011
There was a time where Alex Rodriguez was not only a surefire first-round pick, but the best player in baseball.  The days of being the supreme force are surely behind ...
December 30, 2010
Phil Hughes was the toast of baseball through May as he appeared nearly unhittable.  He was 6-1 over the first two months to go along with a 2.72 ERA, 1.07 ...
December 13, 2010
For all the hype Robinson Cano had in 2010, when you compare his numbers from the past two years, the only major change was in his RBI.  As fantasy owners ...
November 5, 2010
It is almost a foregone conclusion that Jorge Posada will spend significantly more time at DH in 2010, as his days as a full-time catcher appear to be over.While that ...