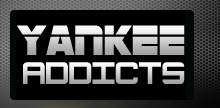 February 1, 2012 · Eric Stashin · Jump to comments
Article Source: Bleacher Report - New York Yankees
Curtis Granderson not only had one of the best seasons in baseball in 2011, but no one could've predicted the numbers he was going to produce. There's a difference between expecting an impressive season and expecting this:
583 At Bats
.262 Batting Average (153 Hits)
41 Home Runs
119 RBI
136 Runs
25 Stolen Bases
.364 On Base Percentage
.552 Slugging Percentage
.295 Batting Average on Balls in Play
The numbers were off the charts and before we point to Yankee Stadium as the reason for his success, it was the furthest thing from the truth. Just look at his home/road splits:
Home—262, 21 HR, 62 RBI, 66 R and 12 SB in 279 AB
Road—263, 20 HR, 57 RBI, 70 R and 13 SB in 304 AB
Are the home numbers marginally better since they came in 25 fewer AB? Sure, but would anyone spit on those road numbers? He was dominant regardless of where he played.
It shouldn't be a surprise that people lust to own him for 2012. According to Mock Draft Central, his current average draft position is 19.41 and he has been selected as high as No. 11 overall.
The question is, should we be targeting him that highly or would owners be better served to bypass him and select a middle infielder like Dustin Pedroia (18.83), Hanley Ramirez (19.50) or Jose Reyes (19.33)?
For me, the answer is a simple one. Curtis Granderson isn't going to be on the majority of my fantasy teams.
The fact is that the odds of Granderson coming reasonably close to the numbers he posted in 2011 are slim. I am not about to say that it is impossible, but there are enough questionable numbers to make you pause.
First of all is his home runs to fly balls, which was a career-high 20.5 percent last season.
He posted a 14.5 percent in 2010 and in the four years before that he hadn't been above 12.6 percent.
Throw in the fact that he was just one of nine hitters to qualify for the batting title and post a HR/FB of at least 20 percent and it's hard to imagine another 40-plus HR campaign.
He hadn't hit more than 30 prior to 2011 and it's a lot more realistic to think he'll be closer to that mark than 41.
The runs scored were also a ridiculous total.
The second-highest run total in 2011 was Ian Kinsler's 121. In fact since 2008 only two other players had scored at least 120 runs in a season (Albert Pujols had 124 in 2009 and Hanley Ramirez had 125 in 2008).
Loaded Yankees lineup or not, does anyone really believe 136 is going to be possible once again?
If he hits second in the lineup once again (he had 438 AB in the second spot last season) then sure, it may be possible. However, it also isn't unthinkable that he gets moved down towards the middle of the lineup as well. We'll have to wait and see, but I would go into the year expecting a number much closer to 100.
Part of that has to do with his rising strikeout rate (coupled with a likely decrease in power), which will limit his potential to hit for a higher average. Look at the trend over the past four seasons:
2008—17.6%
2009—19.9%
2010—22.0%
2011—24.5%
He also has posted fly ball rates of 49.3, 47.2 and 48.0 percent the past three seasons, numbers that don't lend themselves to a high batting average on balls in play.
In other words, last season's .262 could be the limit we should be expecting, especially considering he was under .250 the previous two seasons.
Throw in the fact that, if he does hit second once again, can we really expect him to surpass 100 RBI? It's hard to imagine.
I'm not about to say that I wouldn't like to own Granderson, but things look a lot different when you are talking about someone that may hit .250 with 30 HR, 90 RBI, 100 R and 15 SB as opposed to the sick numbers he posted in 2011.
He's a great player, but I would rather use a second-round pick to get one of the elite middle infielders in the game.
Reyes/Pedroia/Ramirez all have the potential to post similarly productive numbers, though all will do so with a higher average and by filling a shallower position.
If I have the choice, I'm picking one of them over Granderson every time.
What about you? Would you draft Granderson in the second round? Why or why not?
Make sure to check out all of our 2012 rankings:
Read more New York Yankees news on BleacherReport.com