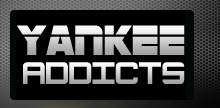 November 5, 2010 · Eric Stashin · Jump to comments
Article Source: Bleacher Report - New York Yankees
It is almost a foregone conclusion that Jorge Posada will spend significantly more time at DH in 2010, as his days as a full-time catcher appear to be over.
While that should certainly help keep him healthy, which will make fantasy owners happy, does it really matter? Does he bring enough to the plate that justifies using him, even in one-catcher formats?
It sure didn't appear so in 2010:
383 At Bats
.248 Batting Average (95 Hits)
18 Home Runs
57 RBI
49 Runs
3 Stolen Bases
.357 On Base Percentage
.454 Slugging Percentage
.287 Batting Average on Balls in Play
A lot of his numbers were down due to his lack of playing time. If he had gotten 500 AB, the RBI and HR both would have been extremely attractive numbers from a catcher.
If the Yankees do utilize him more as a designated hitter, you would have to think he's going to get more at bats, but I'm still not sure he'd be a lock to reach 500. The Yankees in general are an aging team and they are going to need the DH slot to give guys like Derek Jeter and Alex Rodriguez a little more rest, yet keep their bats in the lineup. I just don't see the Yankees utilizing the DH role for any one player, so if the Yankees don't trust Posada behind the plate, he's going to find himself on the bench.
Of course, that assumes that playing DH will allow him to stay healthy. He's only had 500 AB once since 2003 (he had 506 in 2007). Over the past three seasons he's had 168, 383 and 383.
He'll be 39 years old entering the season, so even in a limited role there's no guarantee his body holds up.
You also have to wonder a bit if playing in the new Yankees Stadium has helped to buoy his numbers:
Home – .288, 11 HR, 33 RBI, 32 R
Road – .205, 7 HR, 24 RBI, 17 R
It's actually the second consecutive year that he had a similar split, as you can see from his 2009 marks:
Home – .325, 14 HR, 44 RBI, 33 R
Road – .245, 8 HR, 37 RBI, 22 R
Playing in the Yankees lineup is going to help give him ample opportunities to drive in runs, no matter where he hits. They are stocked, from top to bottom, so chances are he's going to consistently come up with men on base.
However, we are talking about a 39-year-old catcher with a lengthy list of injury concerns who we wouldn't want to use when playing on the road. Does that sound like an attractive option? In two-catcher formats he'll have value, but in one-catcher formats, he's just too risky of a proposition.
I'd love to have him as a bench option that I can plug in when he's playing at home (and maybe when he's hot on the road), but that's about it.
What about you? Is Posada someone you would like to own in 2011? Why or why not?
Make sure to check out some of our 2011 Projections:
THIS ARTICLE IS ALSO FEATURED ON WWW.ROTOPROFESSOR.COM
Read more New York Yankees news on BleacherReport.com