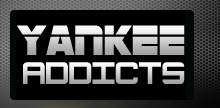 News published by
December 21, 2010
For the past two seasons, Derek Jeter has been leading off for the New York Yankees after spending many years in the two-hole. At the beginning of 2009, Joe Girardi explained ...
December 18, 2010
He who hesitates is lost. Or, in my experience, he who sleeps in misses the bus. The Yankees were looking good. The assumed front-runners to nab Cliff Lee, the Yankees somehow ...
October 14, 2010
The World Series. One of the most sacred events in the sports world. It goes without saying that getting there takes intense preparation, heart, skill and a little bit of ...
October 11, 2010
All season long, Yankee fans have rooted against the Rays. Especially down the stretch, when both teams were locked in an epic battle for the AL East crown. There were some epic ...
September 18, 2010
Derek Jeter cheated. Derek Jeter—the ultimate role-model, leader, and winner—cheated. So people say. However, it really is just part of the game. For those who haven't seen or don't know about the incident in ...
September 17, 2010
As many Yankee fans know, Brett Gardner had a negative MRI on his wrist recently. The Yanks decided to give the speedy left fielder a corristone shot, which for a few days would ...
September 12, 2010
As of September 12th, the Yankees are 87-56, a half game up on the Tampa Bay Rays in the AL East. The division will be at stake with the crucial ...
May 13, 2010
Let me start off by saying this: I love Francisco Cervelli. I love his game, love his heart. He calls a better game than most guys who have been around much longer ...
May 1, 2010
As April draws to a close, the New York Yankees find themselves 15-7, 1.5 games behind the first-place Tampa Bay Rays. It was a good month for the Yankees, especially ...
April 29, 2010
When at his best, AJ Burnett is one of the best pitchers in baseball. When Burnett is at his best, he is dominant. When he is at his best is the key. Every ...