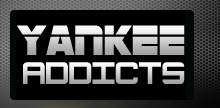 September 17, 2010 · Colin Krouse · Jump to comments
Article Source: Bleacher Report - New York Yankees
As many Yankee fans know, Brett Gardner had a negative MRI on his wrist recently. The Yanks decided to give the speedy left fielder a corristone shot, which for a few days would make it near impossible for Gardner to swing a bat.
Since he hurt the wrist when he was hit by a pitch in an interleague game against the Dodgers, we've seen his average drop from above .300 to the .280 mark.
So obviously, the pre-wrist injury Gardy was a lot more productive.
So does that mean resting him until the playoffs start is a good idea?
Or is that crazy?
Obviously, the Yankees seem a lock for the postseason. So sitting Gardner or getting him just a few starts now and then couldn't hurt right?
After all, that pre-injury Gardy was a huge positive for the Yankees.
But on the other hand, the Bombers want to win the division, too. And I'm sorry, but if we want to regain first place from the Rays, Colin Curtis is not the way to go in left field.
So what should it be?
Sit the speedy outfielder, or at least give him some rest?
Or step on the gas RIGHT NOW and push as hard as possible for the throne atop the AL East?
I've said it before, the ideal outfield is Gardner, Granderson, and Swisher.
Actually Swish is dealing with a nagging knee pain as well, among other bumps and bruises on the Yankees players.
So really, this is a team thing.
What will it be?
Cruise control?
Or should we floor it?
There is no happy medium at this point.
Decision-making time.
Read more New York Yankees news on BleacherReport.com