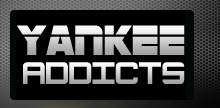 October 11, 2010 · Colin Krouse · Jump to comments
Article Source: Bleacher Report - New York Yankees
All season long, Yankee fans have rooted against the Rays.
Especially down the stretch, when both teams were locked in an epic battle for the AL East crown.
There were some epic moments, too. Like Robbie Cano's homer. Or arguably the best-pitched game by two teams in a game this season, with Sabathia and Price on top of their games. And of course, Derek Jeter's "hit by pitch" that almost cost the Rays the game.
Yep, plenty to hate about them Rays.
But this is the time to be rooting for them.
What?
Has this kid officially checked in to the mental institution?
No. Well, not yet, anyways.
The Yankees do need to face the Rays. Obviously, it would be an exciting, intra-division matchup, but it goes well beyond that. This is how.
1. Cliff Lee Just Scares Me
As the title of this article should indicate, this is one of the main reasons. This year alone, the lefty is 2-0 against the Bombers with a complete game.
That's just 2010.
Since 2007, Lee boasts a 6-1 record against the Yankees with a 2.76 ERA. Is it just me, or does anyone else cringe at the thought of seeing this guy twice in a series?
Not to mention how he pitched in the World Series against the Yankees last season.
I'll stay away from talking about that.
2. Game 2 Won't Be Any Easier
You know what sucks? Having to face Lee. Know what sucks more? Knowing that CJ Wilson is waiting for you the next day.
A converted reliever, CJ Wilson has been outstanding. Behind Cliff Lee, the Rangers have one of the best one-two punches in MLB. Wilson went 15-8 this season with a 3.35 ERA.
If there were questions as to whether he could produce in the postseason, I think he has answered them already.
In Game 2 of the ALDS, Wilson went above and beyond the call of duty, allowing no runs on just two hits, striking out seven in the process before leaving after 6.1 innings of work.
However, against the Yanks this year, he's 0-1 with a 5.65 ERA in three starts.
Still, I'd rather not face him.
3. Yankees Record vs. the Rangers
This year overall, the Yankees were 3-5 against Texas.
Not extremely bad, but certainly nowhere near good.
After the Rangers got Lee in mid-July, however, the Yankees were 0-5 against the Rangers. Plus, the Rangers have home-field advantage against the wild-card Yankees, despite New York's better record.
Does this speak to you? Does to me.
Seems like the Yankees are better off against the Rays.
Read more New York Yankees news on BleacherReport.com