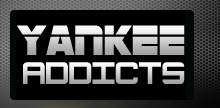 April 29, 2010 · Colin Krouse · Jump to comments
Article Source: Bleacher Report - New York Yankees
When at his best, AJ Burnett is one of the best pitchers in baseball.
When Burnett is at his best, he is dominant.
When he is at his best is the key.
Every other time, he seems downright terrible.
The last World Series was a prime example.
Burnett started Game Two. He was brilliant, giving up one lonely run and scattered four hits in seven innings of work. The victory jump-started the Yankees in the World Series who, at the time, had a one-game deficit to the Philadelphia Phillies.
In Game five however, the story was a bit different.
In just two innings, Burnett was rocked for six runs, putting the Yankees in a deep hole early. His command was terrible, and when he did throw a strike, it seemed to be right over the heart of the plate.
It was like that throughout the '09 regular season as well.
As a number two starter, it can't be that way. Your team, and fans, should have 100 percent confidence, or something close to it, that you will give them a quality outing when you're a No. 2 starter.
But so far this season, he's pitched well for the most part. He goes into tonight's Yankees-Orioles series finale with a 2-0 record, a 3.20 ERA, and 16 strikeouts.
If Burnett can give six quality innings, the Bombers will most likely be able to get out of Baltimore with a series victory.
Hey, if he can give six quality innings every start, I'll never ask for another Christmas gift again.
Okay, maybe not.
But that's all it will take.
That is, of course, if the bullpen holds up.
We'll see what happens tonight at 7:05, when the Yanks battle the O's at Camden Yards.
Read more New York Yankees news on BleacherReport.com