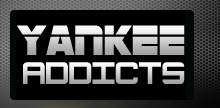 News published by
May 9, 2009
Here are the big games on tap for the day. Home teams are in bold.Kansas City vs. L.A. AngelsI have now made it illegal to miss a Zack Greinke ...
May 8, 2009
Just a quick recap of the games from last nightNew York Yankees 4, Baltimore Orioles 0 Obviously a big night for the Yankees. CC Sabathia went nine shutout innings to improve ...
May 6, 2009
Here are a couple of MLB games to look forward to tonight. Home teams are in bold. Philadelphia Phillies vs. New York Mets Philadelphia gets their first crack at the Mets in ...
May 2, 2009
First Pitch is going to be a recap of the some of the games from the previous day, including highlights. The home team is in bold.Tampa Bay 6—Boston 2Justin Masterson was ...
May 2, 2009
OK, so obviously, baseball fans by now have heard that Alex Rodriguez of the Yankees has done steroids. He said that he did them during his time with the ...