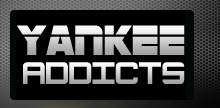 May 6, 2009 · Colin Coulahan · Jump to comments
Article Source: Bleacher Report - New York Yankees
Here are a couple of MLB games to look forward to tonight. Home teams are in bold.
Philadelphia Phillies vs. New York Mets
Philadelphia gets their first crack at the Mets in Citi Field. Chan Ho Park takes the mound for the Phils, who is 0-1 with a 9.57 ERA. Philly hasn't said how many more chances they will give Park, so that means he better pitch well tonight. Johan Santana gets the nod for New York, whose starts have been getting wasted due to offense. One thing to note: Shane Victorino has 14 RBI in his past 10 games.
San Francisco Giants vs. Colorado Rockies
Randy Johnson chases win number 298 tonight against the Rockies. Ubaldo Jimenez has struggled for Colorado so far, going 1-4 6.58 ERA. Johnson has really beaten up on Colorado more than any other pitcher, 19-7, 2.223 ERA, and 251 strikeouts lifetime. Rockies catcher Crhis Ianetta is .358, four homers, and 20 RBI against the Giants.
Tampa Bay Rays vs. New York Yankees
The game of two teams that showed promise but are struggling. The Yankees have looked awful in their past two games, getting swept by Boston. The Rays have seemed to pick up the pace, taking three of four from Boston with Carl Crawford getting six steals in one game.
B.J. Upton and Dioner Navarro have gotten off to slow starts, who are hitting .157 and .179, respectively. Also, the Yankees put Jorge Posada on the DL.
Washington Nationals vs. Los Angeles Dodgers
The Dodgers try to remain perfect at home tonight by taking on the Nationals. So, tonight, the Dodgers will remain perfect at home. Daniel Cabrera starts for Washington and Clayton Kershaw is on the mound for LA. Both pitchers are 0-2 with ERAs of 4.44 and 5.46, respectively.