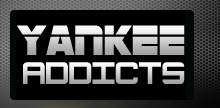 May 9, 2009 · Colin Coulahan · Jump to comments
Article Source: Bleacher Report - New York Yankees
Here are the big games on tap for the day. Home teams are in bold.
Kansas City vs. L.A. Angels
I have now made it illegal to miss a Zack Greinke game. How can you see that he is scheduled to pitch and choose not to watch it. He comes into the game tonight 6-0 with a 0.40 ERA. The Royals will be opposed by Joe Saunders, 4-1, 3.29.
Florida vs. Colorado
Another pitcher that you absolutely have to see is Josh Johnson. So far he is having a good 2009, 2-0, 2.57. Colorado, who have lost their past two games puts Jorge De La Rose, 0-2, 3.90 on the mound. Hanley Ramirez appears to have healed from the wrist injury, hitting .444, with 4 home runs and 5 RBI in the past seven days.
N.Y. Yankees vs. Baltimore
Alex Rodriguez's second game of the season after coming back from surgery. He was 1-4 last night with a three run homer. Phil Hughes will takes the mound for the Bronx Bombers, coming in 1-1 2.70 and will try to make the Yankees front office wonder why they spent over $100 million on two pitchers. Adam Eaton pitches for the Orioles, 1-3 7.18. I wonder how this one will go.