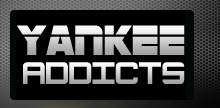 May 2, 2009 · Colin Coulahan · Jump to comments
Article Source: Bleacher Report - New York Yankees
First Pitch is going to be a recap of the some of the games from the previous day, including highlights.
The home team is in bold.
Tampa Bay 6—Boston 2
Justin Masterson was making his third start on the season, filling in for Daisuke Matsuzaka. Masterson went 2-0 allowing 1 run in each start. So of course he gave up six runs to the Rays, including an Evan Longoria grand slam.
By the way Tampa, those cowbells make me want to kill myself.
New York Yankees 10—LA Angels 9
Catcher Jorge Posada hit a two-run walk off single for the win. It was also Brian Fuentes' second blown save of the season. Posada drove in two runs with a homer in the first inning to get four RBI's on the night. Andy Pettite got roughed up for his second straight start, allowing five runs in 5.2 innings.
Oh, and Mark Teixeira earned his money by going hitless with a walk and boosting his average up to .189.
Dodgers 1—Padres 0
In a less than thrilling walk off win, Russell Martin drew a bases loaded walk to bring in the winning run. Jake Peavy didn't suck for a night hurling seven scoreless innings.
Mets 7—Phillies 4
Daniel Murphy drove in a pair of runs and so did Mike Pelfrey?(Checks roster) Yea, pitcher Mike Pelfrey hit a two run single to help his cause.
Raul Ibanez kept up his offensive pace, driving in two runs. Check out tomorrow night's Mets game, Oliver Perez is going to try and keep his job in the majors after New York spent $36 million for three years. Perez is 1-2 with a 9.31 ERA so far.
I don't think anyone has been paid more to do less. Oh yea, this guy.