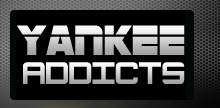 February 23, 2009 · Yankee Addict · Jump to comments
TAMPA, Fla. — Chien-Ming Wang's first 19-win season was also to be Bernie Williams' last go-round in the big leagues, though the Yankees teammates could not have known that as they handled the disappointment of the club's early playoff exit in 2006.
Even less predictable was the situation that Wang and Williams found themselves in on Friday, as the pair stared each at other on the sun-splashed diamond of George M. Steinbrenner Field.
Facing hitters for the first time since a June foot injury derailed his 2008 season, Wang fired all his pitches to a group that included Williams, Derek Jeter and Jorge Posada. Working out to prepare for Puerto Rico's squad in the World Baseball Classic, Williams had one solid stroke off Wang, driving one fat offering to deep center field.
"I left one sinker up high," Wang said. "He hit it far."
Wang, who turns 29 on March 31, has been throwing off mounds since mid-October, when he traveled to Tampa during baseball's playoffs and worked out at the Himes Avenue Minor League complex.
The right-hander was 8-2 with a 4.07 ERA in 15 starts for the Yankees last season before he pulled up running the bases in a June 15 Interleague game in Houston and was diagnosed with a sprained Lisfranc ligament and a partial tear of the peroneus longus of the right foot.
"It's normal," Wang said. "I don't feel anything."