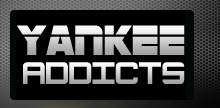 News published by Yankee Addict
February 23, 2009
TAMPA, Fla. -- Chien-Ming Wang's first 19-win season was also to be Bernie Williams' last go-round in the big leagues, though the Yankees teammates could not have known that as ...
February 23, 2009
TAMPA, Fla. -- It was all part of the process, they assured Jorge Posada. But that didn't change the strange sensation the Yankees catcher was feeling in his surgically repaired ...
February 23, 2009
The new Yankee Stadium is unveiled on the professional level on April 16th. A-Rod will be called "A-Hole". It's that simple. He is no longer The Natural. Then the Yanks ...