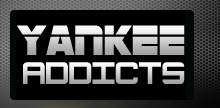 February 23, 2009 · Yankee Addict · Jump to comments
TAMPA, Fla. — It was all part of the process, they assured Jorge Posada. But that didn't change the strange sensation the Yankees catcher was feeling in his surgically repaired right shoulder.
After years of firing seeds to second base, Posada was starting all over again, re-teaching himself to play catch across the vacant fields of the Yankees' complex. And now that he may have put the wobbliest days behind him, Posada can feel the difference.
"I'll tell you the truth — when I came down here and started throwing, it felt like I was throwing a Ping-Pong ball against the air," Posada said. "The ball wasn't getting there, and I wasn't feeling the ball. It's a different feeling to throw the ball and not be able to feel the weight of the ball. Now I'm able to extend."
Reporting to camp well ahead of pitchers and catchers, Posada has had plenty of time to work out the kinks. He is incrementally moving closer to getting behind the plate in a big league game, and he is still eyeing Opening Day on April 6 at Baltimore as the moment he will stick a few fingers down for CC Sabathia.
The 37-year-old made 15 throws from distances as far as 220 feet Sunday, drawing praise from Yankees manager Joe Girardi, who called it "substantially different than what I saw just four or five days ago."
It's a far cry from the frustrating moments of last April, when the Royals figured out that Posada's stiff shoulder wasn't permitting him to throw. Kansas City ran wild, and Posada later admitted his shoulder was weak. Suddenly, backup Jose Molina was seeing much more action than anticipated.
Sent to the first disabled list stint of his career, Posada attempted to regain strength through rehab, but eventually succumbed to season-ending surgery in July as the Yankees traded for veteran Ivan Rodriguez as a stopgap. Posada insists that he will be there to catch upwards of 110 to 120 games this time around.
"It's night and day," Posada said. "Last year, I couldn't do the things that I'm doing right now."
Posada has been regularly catching pitchers in their bullpen and live batting practice sessions. In a workout Sunday, Posada said that he also made 10 throws at a distance of 120 feet, which is as far as he'll need to throw in a regular season game.
Girardi joked that if Posada needs to make 10 throws under real conditions, the Yankees will probably be involved in some kind of slugfest. But for late February, they'll gladly take it.
"The ball was coming good," Posada said. "I only forced the last three. Tell you what, I feel good today. There's no pain, and every day I'm able to bounce back. I'm still progressing and really happy with it."
While Posada will not be available to catch when exhibition games begin Wednesday, he will be used as a designated hitter in the early days of the Grapefruit League schedule. There is no exact date for Posada to get back behind the plate, but Posada has already circled one spring date on his calendar.
On March 20, Posada will be honored by the Ted Williams Museum in St. Petersburg, Fla., during a dinner on the artificial turf at Tropicana Field to benefit the Children's Dreamfund.
Posada will receive a community award for his work with the Jorge Posada Foundation, which provides support to families with children affected by Craniosynostosis.
"I'm really excited about it," Posada said. "You do a lot of stuff with the foundation, and awards like this really keep you going. It's tough to maintain a foundation, and we're really excited."