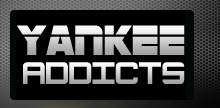 November 30, 2010 · Christopher Chavez · Jump to comments
Article Source: Bleacher Report - New York Yankees
Yahoo Sports is reporting that the Kansas City Royals may be putting their ace pitcher on the market this off-season in hopes of getting a large return.
Among the teams that have been interested in Zach Greinke's services are the New York Yankees.
While currently focused on signing free-agent Cliff Lee, the Yankees might make a run at Greinke should things fail to work out. But, the Yankees are currently on a list of fifteen teams that Greinke could block a trade to, if the Royals opt to trade him.
According to Jeff Passan of Yahoo Sports, the Royals right-hander could choose to make a move to New York since they technically fall under the category of a team that can contend next season.
Greinke would be pleased to be traded to a contending team.
A source told Passan that Greinke "wants to go to a team that wins."
These winter meetings will be crucial when it comes to straightening out the New York Yankees pitching rotation for next year.
Cliff Lee could sign soon and the Yankees may need to start putting together a back-up plan and that's where Greinke comes in.
On the flip side, the Texas Rangers will likely make a move for Greinke if Cliff Lee chooses to don the pinstripes at Yankee Stadium next year.
Nolan Ryan seems to be fearless this off-season when it comes to making moves and preserving the Rangers' success into 2011.
A move for Greinke would have him signed through the 2012 season, which is fine for either the Yankees or Rangers due to the fact that the pitching market is not expected to be strong in the next few off-seasons.
Read more New York Yankees news on BleacherReport.com