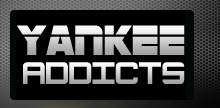 News published by
January 23, 2012
Last week, the New York Yankees avoided arbitration with relievers David Robertson and Joba Chamberlain. If there is any year for Chamberlain to prove his value at the back end ...
September 7, 2011
It was 1:29 AM on the East Coast, when the New York Yankees and the Baltimore Orioles went into the seventh inning stretch and brought out Teresa Scanlan, Miss America 2011, ...
February 27, 2011
The New York Yankees faced off against the Philadelphia Phillies on Sunday and allowed some of their developing prospects get some playing time.Among the crop of prospects were Ivan Nova, ...
February 20, 2011
There are multiple photos surfacing on Twitter of New York Yankees catcher playing first base. At a first glance, one would guess that it would be any random prospect wearing ...
December 20, 2010
The New York Yankees relied on the right arm of Luis Vizcaino as their bridge to Mariano Rivera in 2007. The Yankees acquired him in the deal that also brought along ...
December 19, 2010
The Yankees have been doing a lot of waiting this offseason. They waited for Cliff Lee to choose his team. They waited for Derek Jeter to accept their offer. Then ...
December 15, 2010
The New York Yankees struck out on Cliff Lee and now their attention turns to not losing one of their own. Andy Pettitte is currently exploring his options as to ...
December 12, 2010
The New York Yankees fan base was in a state of bedlam yesterday afternoon, when there were reports on Twitter circulating and stating that Cliff Lee had rejected the Yankees ...
November 30, 2010
Yahoo Sports is reporting that the Kansas City Royals may be putting their ace pitcher on the market this off-season in hopes of getting a large return. Among the teams that ...
November 14, 2010
According to Fox Sports' South West Division, Brian Cashman has spoken to the media saying the New York Yankees have interest in the Rangers' southpaw pitcher, but they are not ...