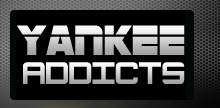 January 23, 2012 · Christopher Chavez · Jump to comments
Article Source: Bleacher Report - New York Yankees
Last week, the New York Yankees avoided arbitration with relievers David Robertson and Joba Chamberlain. If there is any year for Chamberlain to prove his value at the back end of the bullpen, 2012 is his last chance.
He missed the majority of the 2011 campaign due to an elbow injury that required Tommy John surgery. Before he was put on the disabled list, the Yankees would never know which reliever would come out of the bullpen. There would be very few appearances made by the ace reliever seen when he first came into the majors and other times games would quickly turn around in favor of the opposition.
Consistency is the key for Chamberlain and should be at the heart of his focus entering spring training. When the "Joba rules" were put in order in 2007, he appeared to be a more relaxed pitcher. Then the rules were put aside and his arm was never the same.
The blame game can be played and put on Joe Torre for having a history of blowing out reliever's arms and making the "Joba rules" public to the media, or even Chamberlain himself for being in a rock star mentality after his stellar debut.
Mental mistakes can get to you and so can gaining weight. Entering 2011 spring training, Chamberlain was noticeably overweight and annoyed by the questions as opposed to being open about getting back into the workout swing of things. His demise and fall from the graceful start in 2007 can be attributed to many things.
The Yankees have Chamberlain on the payroll for 2012 and 2013 before he hits the free-agent market. This is the same pitcher that the front office refused to package in previous blockbuster deals. He still has some value and the front office still has hope he can pan out the way they wanted him to. A trade will definitely be imminent by July or next winter if his performance is subpar to "bridge to Mariano" standards.
Crazed fans would go out on a limb and say that the rotation is still an option for the right-handed pitcher. Bouncing him back and forth again will only do more damage than good for his mental game. Sure, his numbers are similar to Gio Gonzalez as a starter. Coming off Tommy John surgery, the last thing needed is to push him for more innings.
Early on in his career, Mariano Rivera returned strong after his Tommy John surgery and now stands as the all-time saves leader in Major League Baseball history. If Chamberlain can turn himself around, the Yankees could be in for a treat they haven't tasted since 2007.
This article was originally posted at The Stirring Straw.
You can follow Chris Chavez on Twitter: @Chris_J_Chavez
Read more New York Yankees news on BleacherReport.com