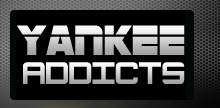 May 1, 2009 · Nick Klopsis · Jump to comments
Article Source: Bleacher Report - New York Yankees
After a humbling sweep at the hands of the hated Boston Red Sox this past weekend, the Yankees have turned their ship around.
Now the winners of three straight, the Yankees look to have regained their confidence and are making fans forget their earlier-season struggles with some solid pitching performances, gritty at-bats, and solid defensive play.
Who does one thank for their recent turnaround? Jeter? Teixeira? Burnett? Swisher?
The answer is the Yankees young guns.
Let's take a look:
It all started in the second game of three against the Detroit Tigers: 22-year old Phil Hughes—he of the 0-4 record and 6.64 ERA last year—was called upon to save a Yankees rotation that had one of the worst team ERAs in all of baseball.
Boy, did he deliver.
Hughes tossed six innings of shutout ball, giving up two hits and two walks while striking out six in an 11-0 win.
The next day, the Yankees held on for an 8-6 thriller against the Tigers, with Detroit rallying for five runs in the bottom of the ninth against a shaky outing by Jonathan Albaladejo.
Lost in the score, however, is Joba Chamberlain's outstanding game—he matched Hughes's performance pitch for pitch, giving up only one run on three hits and three walks, fanning six in seven innings of work.
Then, in today's game against the Angels, Melky Cabrera came through in the clutch, driving in the go-ahead run in the bottom of the eighth inning as the eighth inning as the Bronx Bombers came back to win the game 7-4.
In these three games, Phil Coke pitched two shutout innings and did not allow a base runner, earning the win in the Angels game.
Even Ramiro Pena got in on the action, netting his first two RBI directly after Cabrera drove in the go-ahead run against Los Angeles.
Talk about youth being served.
In order for the team to continue this streak of success, they need this kind of production from the younger guys on the team, especially in the rotation.
With Chien-Ming Wang on the Disabled List and CC Sabathia having his usual slow start, Hughes and Chamberlain need to step up and become the stoppers that Yankee fans have expected them to be since last year.
In addition, the offense cannot flow through Nick Swisher forever—the Yankees need both Melky and Robinson Cano to maintain their recent hot streaks, as well as for the weaker players such as Pena and Brett Gardner to step up and contribute on a regular basis.
Only then will the Yankees truly be a contender in the cutthroat AL East.