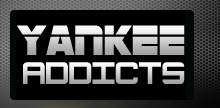 April 12, 2010 · Colin Krouse · Jump to comments
Article Source: Bleacher Report - New York Yankees
He's got no range.
Not an accurate arm.
Getting too old.
I hear it all the time. It makes me sick.
Derek Jeter is always either adored or hated. Those haters keep inventing new stuff to make him look bad.
Well here's my say.
First off, I'm not even going to use stats, because Jeter's stats aren't even half of what he is to a team.
We'll start with the physical game.
I'll make this clear right now, he is one of the best defensive shortstops in the league.
He goes hard after every ball, and gives you his best. He makes all the plays he has to make, and then some. He understands what his job is, and makes sure he gets the hell to where he's supposed to be. And he gets the ball to first and gets the out. What more can you ask? He's doing everything he needs to do and more.
At the plate, you rarely see him give up an at-bat. He puts the ball in play, gets on base, and makes things happen. He knows what he has to do, when to make a guy work, and whether to jump on him right away. And he'll pop one out every now and then.
But that's only part of it.
He is a captain. He lets his game speak. He brings a certain confidence to a team. He gives them an example of what to do. He doesn't care at all about his individual stats either. All he cares about is winning and the good of the team.
He's an all-around great teammate, too. I'm sure he's gotten on a teammate many times. But you never see him do it on the camera. He doesn't need attention. Again, he lets his game speak.
And above all, he's a great leader. No doubt about it.
How many guys can you say those last few paragraphs about. Nobody. Kevin Youkilis, if you're a Red Sox fan, which is not true at all (that fake hustle of his drives me crazy, but I'll get to that another time).
So with all that considered, he's probably one of if not the greatest shortstops of all time.
So I guess I'm saying, haters, stop hating. Just be honest and admit it.
Jeter's amazing all-around. And you know it deep down.
Read more New York Yankees news on BleacherReport.com