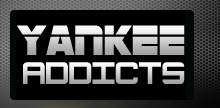 May 25, 2009 · Jordan Schwartz · Jump to comments
Article Source: Bleacher Report - New York Yankees
The Yankees turned in one of their most complete performances of the season on Memorial Day as they destroyed the first-place Texas Rangers by a score of 11-1.
With Chien-Ming Wang's return on the horizon, Phil Hughes made a strong case to remain the rotation by shutting out the hot-hitting Rangers through eight innings, while Alex Rodriguez led the offensive explosion with a five-hit day.
Here are the grades from Sunday's victory in Arlington.
Joe Girardi, Manager: (A) This was an easy one for the skipper, who just sat back and watched his lineup pound out 19 hits, while his starter surrendered just five base runners.
I would've let Hughes pitch the ninth to try to get the shutout and give the bullpen a full day off, but I guess it's not a huge deal being that they were up 11 runs.
Derek Jeter, SS: (C+) The Captain got a day off in the field but he still produced at the plate, extending his hitting streak to nine games by going 1-5 with a double, two runs and a walk.
Johnny Damon, LF: (A) Damon continues his hot hitting. He was 2-4 with a double, a walk and three runs scored, raising his average to .312.
Mark Teixeira, 1B: (A) Teixeira is climbing closer to .300 everyday. He went 2-4 on Monday with an RBI double in the first and a run-scoring single in the sixth. Too bad a guy in my fantasy league wouldn't trade me him right before A-Rod came back.
Alex Rodriguez, 3B: (A+) 5-5.
Robinson Cano, 2B: (A) Cano was 2-5 with a two-run triple in the third.
Melky Cabrera, CF: (D) Cabrera left six runners on base, but like everyone else in the lineup, he picked up at least one hit.
Nick Swisher, RF: (B+) Swisher singled home a run in the fifth, but I was more impressed with his other two RBIs. He drove in Cano on a ground out in the third and hit a sac fly in the eighth. Those are the little tack-on runs that will go a long way in closer games.
Ramiro Pena, SS: (D) Pena went 1-5 with a strikeout and left four men aboard.
Kevin Cash, C: (A) Cash quadrupled his hit total for the season with a 3-5 day.
Brett Gardner, CF: (B) Gardner replaced Damon in center and picked up a single in his only at-bat.
Angel Berroa, PR-3B: (INC) Berroa pinch ran for A-Rod and then replaced him at third.
Phil Hughes, SP: (A+) Hughes dropped his ERA from 7.06 to 5.16 and has now turned in solid back-to-back starts. It'll be hard to pull him from the rotation at this point, but he'd be the odd man out if Wang has a successful return. On the bright side, he'd bolster the bullpen.
Alfredo Aceves, RP: (F) If you're going to give up a run once every six games, might as well do it when your team is up 11.
Yankees Overall Grade: (A) I would've handed out an A+ if it wasn't for that homer Aceves gave up in the ninth. Still, this was an excellent performance for a team that played 11 innings and flew halfway across the country the previous day. The Yanks need to take just one of the next two to win the series before heading to Cleveland to complete the seven-game road trip.
Jordan Schwartz is Bleacher Report's New York Yankees Community Leader. His book "Memoirs of the Unaccomplished Man" is available at amazon.com, barnesandnoble.com, and authorhouse.com.