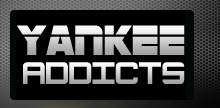 April 26, 2009 · Gary Marchese · Jump to comments
Article Source: Bleacher Report - New York Yankees
The lineups and pregame notes as always via Peter Abraham:
The game is at 8:00pm on ESPN.
Tonight is the 24th time in Andy Pettitte's Yankee career that he will start a game trying to avoid a sweep for the Yankees. In those starts he has gone 17-1 including 4-0 last year. This note comes via the Elias Sports Bureau.
Yesterday was only the third time in Yankees history that they lost a game by five or more runs when leading at some point by six or more runs. The last time this happened was June 5, 1956 against Cleveland. It was also the largest lead blown against Boston since May 16, 1968.
Derek Jeter is 8 of his last 21, Damon is 9 of his last 21, Swisher has reached base safely in all 17 games. Phil Coke has thrown four scoreless innings in a row and Hideki Matsui is 7 of his last 18.
Robinson Cano is having by far the best April of his career, hitting 366 with 5 homeruns and 15 RBI. He also has a 12 game hitting streak.
The Yankees are 7 for 36 with runners in scoring position this series. I know you can't blame the offense yesterday, but once again the last two innings they had second and third one out and couldn't score, it is just inexcusable that it happens time after time and nothing is done about it.
Yankees lineup
Gardner(cf)
Jeter(ss)
Teixeira(1b)
Swisher(lf)
Cano(2b)
Posada(c)
Matsui(dh)
Cabrera(rf)
Berroa(3b)
Red Sox lineup
Ellsbury(cf)
Pedroia(2b)
Ortiz(dh)
Youkilis(1b)
Drew(rf)
Bay(lf)
Lowell(3b)
Varitek(c)
Green(ss)
The Yankees really need to win this game and just get out of town and have a good series in Detroit. They really need a good start to give the bullpen some rest and you may see Steven Jackson and Mark Melancon. These guys are going to have to step up along with Dave Robertson.