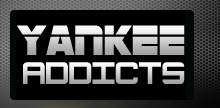 April 25, 2009 · Jordan Schwartz · Jump to comments
Article Source: Bleacher Report - New York Yankees
It's amazing how quickly things can go south.
Just one out from a crisp 4-2 victory Friday night, Mariano Rivera surrendered a two-run homer to Jason Bay, and the New York Yankees went on to lose the first game of this three-game set against the Boston Red Sox.
Then, just one out from taking a 6-1 lead to the fifth inning Saturday afternoon, A.J. Burnett gave up a grand slam to Jason Varitek, and New York went on to lose a marathon 16-11 contest.
Like last year, the Bombers are not hitting well with runners in scoring position, nor are they tacking on enough cheap runs with ground outs and sac flies.
But then again, it's hard to complain about offense when you score 15 runs in two days.
The main problem is pitching. Yankee relievers have been touched for 11 runs in the past couple of contests, but in some ways, such porousness is expected from relievers.
The real issue is the sheer number of innings the bullpen has been forced to throw recently: They have eight IP in this series already. New York's starters need to go deeper into games, especially now that setup man Brian Bruney is on the DL.
Burnett pitched great in his first two starts, and he was looking to make it three in a row until that disasterous fourth inning this afternoon. The former Blue Jay wound up surrendering eight runs in five innings, and it's hard to win when your starter does that.
Joba Chamberlain is averaging just 5.1 innings per start, CC Sabathia is going only six frames, and Chien-Ming Wang hasn't sniffed the fifth since last June.
Andy Pettitte has been the Yanks' most consistent pitcher, and he's going to need to stop the bleeding Sunday night.
Jordan Schwartz is Bleacher Report's New York Yankees Community Leader. His book "Memoirs of the Unaccomplished Man" is available at amazon.com, barnesandnoble.com, and authorhouse.com.