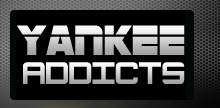 June 10, 2009 · Jordan Schwartz · Jump to comments
Article Source: Bleacher Report - New York Yankees
The Yankees came close but couldn't overcome yet another poor start by Chien-Ming Wang as they fell 6-5 to the Boston Red Sox, dropping New York to 0-7 this year against their hated rival.
In his second start back from the disabled list, Wang gave up four runs on six hits and three walks in just 2.2 innings pitched.
He was missing his spots all night and threw just 39 of 69 pitches for strikes. The good news is Wang lowered his ERA to 14.34.
The question now becomes how long do the Yanks keep sending their former ace out to the mound? New York has an off day on Monday, so the team could skip Wang in the rotation and keep everyone else on normal rest.
But the Yanks probably won't do that. They want to restore his confidence and get his arm strength up and there's no better team to do that against than the worst team in baseball, the Washington Nationals, whom Wang is scheduled to face on Tuesday.
Nevertheless, I would skip him because, at this point, he's New York's No. 5 starter and you're supposed to skip the No. 5 man when you have an off day. Why risk losing a game to the Nats?
Here are the grades from the Yanks loss at Fenway on Wednesday.
Joe Girardi, Manager: (C) Girardi only used three relievers to pitch the final 5.1 innings which is always a good thing, and he correctly had Melky Cabrera lay down a sac bunt with a runner at first and on one out in the eighth (although the Yanks couldn't come up with a clutch hit to score the runner from second).
But I question pinch running for Alex Rodriguez with Ramiro Pena in the ninth. This isn't Jorge Posada or Hideki Matsui on the base paths; A-Rod has some speed, as evidenced by his 284 career steals. Yet down one and with one out, Girardi brought in Pena, who did eventually swipe second base.
But couldn't Rodriguez do that too? I don't like running the risk of tying the game up there and then not having A-Rod in the lineup or out on the field for extra innings. That happened with Robinson Cano a couple weeks ago and it came back to bite the Yanks.
Derek Jeter, SS: (F) The Captain has more hits in his career against Tim Wakefield than versus any other pitcher, but on this night, Jeter went 0-for-5 against the knuckleballer and the Sox bullpen.
Johnny Damon, LF: (B-) Damon was just 1-for-5, but that one hit was a solo homer in the seventh. Defensively, however, he once again showed off his weak arm attempting to throw out J.D. Drew at the plate in the first inning.
Mark Teixeira, 1B: (A+) Tex went 4-for-5 with two doubles and his league-leading 19th homer.
Alex Rodriguez, 3B: (C-) A-Rod was 0-for-3 with two walks and is now hitless in his last 12 at bats.
Robinson Cano, 2B: (D) Cano was 0-for-5 but did drive in a run with a ground ball in the fifth. He's now just 4 for his last 26.
Jorge Posada, C: (A) Posada was 2-for-5 with a homer in the second, but he flew out to end the game with the tying run in scoring position.
Hideki Matsui, DH: (A) Godzilla broke a career-long hitless slump, going 2-for-3 with a double, a walk and a run scored.
Nick Swisher, RF: (C) What a roller coaster game for Swisher, who temporarily made me a fan for life when he bunted a knuckleball and reached in the second but then immediately got doubled off first when he wandered too far off the bag.
He also misplayed a very catchable ball off the bat of Dustin Pedroia in the bottom of that inning, but redeemed himself with a spectacular diving catch on a Mike Lowell liner in the seventh.
Melky Cabrera, CF-RF: (A-) Cabrera was 1-for-3 with an RBI single in the fourth.
Ramiro Pena, PR: (B) Pena pinch ran for A-Rod in the ninth and promptly stole second, but I still contend that Rodriguez could've done that.
Brett Gardner, PR-CF: (INC) This was a good move by Girardi: pinch running for Swisher in the eighth.
Chien-Ming Wang, SP: (F) So the people who wanted Joba Chamberlain in the bullpen thought having both Wang and Phil Hughes in the rotation would be a good idea?
Phil Hughes, RP: (C+) Hughes' only mistake was a big one, giving up a two-run homer to Kevin Youkilis in the fourth, but he pitched admirably through 3.2 innings of relief, striking out five and surrendering just four base runners.
Phil Coke, RP: (A) Coke hasn't given up a run in four appearances this month.
Alfredo Aceves, RP: (C) Aceves was shaky in the eighth, but he didn't give up a run.
Yankees Overall Grade: (C-) Wang was bad again but the lineup also went 2-for-15 with runners in scoring position. They have to win Thursday with CC Sabathia on the mound.
Jordan Schwartz is Bleacher Report's New York Yankees Community Leader. His book "Memoirs of the Unaccomplished Man" is available at amazon.com, barnesandnoble.com, and authorhouse.com.