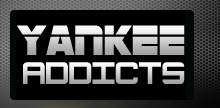 February 22, 2013 · Anthony Maimone · Jump to comments
Article Source: Bleacher Report - New York Yankees
The New York Yankees are filled with question marks entering the 2013 season. Several of their key players, including Derek Jeter, CC Sabathia and Mariano Rivera, are making comebacks from injuries this offseason.
How well those players return to their old form will go a long way in determining the success of the team.
However, no player entering the season can and will make the impact that Mark Teixeira has on how well the team flows.
Teixeira's numbers have been on a steady decline since posting monster stats in his first season with the Yankees in 2009.
Teixeira finished second in the AL MVP race that year. The Yankees won the World Series.
It's hard to imagine Teixeira can return to the type of average he maintained that season and the seasons prior.
Even Teixeira admits it is expected to see his numbers take the obvious course downward.
The Yankees lost a lot of their power this offseason with the departure of Nick Swisher, Russell Martin and Raul Ibanez, making it crucial for Teixeira to rebound from his 24-home run season a year ago and once again approach a 40-homer season.
Teixeira is the heartbeat of the Yankees lineup and will be tasked with the crucial job of protecting Robinson Cano.
The days of a .300 BA are gone for Teixeira, but if he can regain his ability to be a threat from both sides of the plate, it will add some balance to the lefty-heavy lineup.
There is plenty of reason to feel a comeback season is in store for Teixeira. For starters, he is well aware of his past failures and worked this entire offseason to overcome them.
As has been well documented, Teixeira is an incredibly slow starter. His slugging percentage in April tends to be close to 100 points less than every other month.
However, this season Teixeira may get the early practice in when he plays for Team USA in the World Baseball Classic.
Getting Teixeira back to the force he was in 2009 is the single most crucial element for the Yankees this season. They need him to be the run producer in the middle of the lineup.
The Yankees have depth in their starting pitching.
Mo's return is important, but they won 95 games without him last season.
Jeter returning is important, but if Teixeira isn't driving him home, how much does it matter?
Good or bad, Teixeira will have the biggest impact on the Yankees this season. Let's just hope it is a positive one.
Read more New York Yankees news on BleacherReport.com