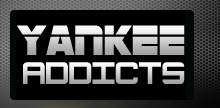 News published by
September 8, 2014
After dropping two of three over the weekend to the Kansas City Royals, the New York Yankees have decreased their chances of claiming a Wild Card spot down to 1.3 ...
August 14, 2014
The New York Yankees had a big makeover this past offseason, bringing in a lot of new faces. As the end of the 2014 season nears, Yankees fans should prepare for ...
July 31, 2014
The 2014 MLB trade deadline has arrived, and the New York Yankees have deemed themselves to be buyers in the market. Their position in the standings, five-and-a-half games out of first ...
July 15, 2014
With the first half of the MLB season finally concluded and the trade deadline just over two weeks away on July 31, the focus on a team's minor league system ...
July 11, 2014
The New York Yankees 2014 season was dealt a serious blow Thursday with the news that starting pitcher Masahiro Tanaka has a small tear in his UCL. Tanaka will be out ...
June 5, 2014
Mock drafts are always a fun experiment to do in any professional sport. However, trying to predict who your favorite team will select is beyond challenging. It gets even trickier when ...
May 30, 2014
With the first two months of the MLB season almost complete and two months left before the trade deadline, the teams that will become buyers and sellers begin to take ...
May 2, 2014
If the standings are all that matter than the New York Yankees couldn't be happier with their April performance. The team wrapped up the month with a 15-11 record, and they're ...
April 25, 2014
The New York Yankees have fought their way to a 13-9 record through their first 22 games of the season. The Yankees have been playing much better baseball recently, as they ...
April 11, 2014
In New York it is never too early to over-analyze a player's performance, especially if the player is a new acquisition from this offseason. Just under two weeks into the regular ...