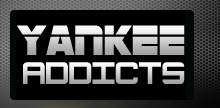 April 28, 2009 · Tom Schecter · Jump to comments
Article Source: Bleacher Report - New York Yankees
It's too early to say we're in trouble.
At this point we're 9-10, with 143 games left to play in a very long season. We've seen the losing end of a couple of horrendous blowouts, along with moments of futility with runners in scoring position, and a Jekyll-and-Hyde bullpen that can dominate days at a time or surrender six runs in the span of an inning depending on, I don't know, how the stars are aligned, and we're 9-10 with 143 games left to play.
It's too early to say we're in trouble.
But we just got swept in Fenway, and lost our eighth-inning guy along with our second-string third baseman to injury. We miss A-Rod badly right now. We miss Chien-Ming Wang, who as it turns out, was injured when he stunk up the joint for his first three starts in a row. Most of all we miss having the grisly spectre of Joba Chamberlain in the bullpen to scare the hell out of our opponents.
Tonight, for the third, and hopefully final, time we re-introduce who should be our answer: Philip Hughes.
Am I jumping the gun by painting a 22-year-old as the savior of this early season?
Not quite.
Hughes has already won a playoff game in pinstripes, relieving for an ineffective Roger Clemens in Game Three of the 2007 LDS, and earlier that season pitched 7.1 innings of no-hit ball before tearing his hamstring in that fateful eighth inning. He's posted a 19 to three strikeout to walk ratio in Triple-A Scranton in his first outings down there, and had a similarly impressive spring.
He's ready to go. He was ready in March.
John Harper of the New York Daily News has already said a successful stint from Hughes will help make the decision to return Chamberlain to the bullpen easier for the Yankee brass to make. Those of you who've been with me on this issue since the beginning of preseason will grimace at the stat in this article about Chamberlain's performance in Friday night's game. More on that later, after we've covered the happier times early this week, when we were too busy spanking the A's to worry about all this other stuff.
April 21: Yankees 5, A's 3
I loved the ovation Jason Giambi got in his first at-bat. I loved that he tipped his helmet in acknowledgement. I loved Brett Gardner making a ridiculous over-the-shoulder catch to rob him of extra bases and an RBI even more.
Speaking of Gardner, the second inning was another showcase for the killer instinct that's making him a fan favorite early on. After his web gem in the first inning, he drove in two runs with an opposite-field single, stole a base, and scored a run as the Yankees batted around on the still-green Dana Eveland.
Gardner wasn't the only brilliant defender on the night. The A's looked to be ready to strike back in the top of the third inning, with runners on first and third with nobody out. That was until Mark Teixeira fielded a hard ground ball, stepped on first, and threw home to nail Kurt Suzuki for an unconventional double play.
Great awareness by Tex, great throw, a play Giambi would absolutely not have made, and sloppy baserunning by Suzuki. Plays like that cost teams playoff berths, especially in a wide-open AL West.
Pettitte, even while failing to strike out a batter, got through seven very impressive innings, pitching out of a jam in the seventh after Ransom booted a hard-hit, but catchable ground ball. Pettitte gave him another chance, forcing another grounder to third with two outs that Ransom played perfectly. Fine performance by my horse. Cody owes him a steak.
As an aside, the A's bullpen looks really, really good. They've got some magnificent arms that are maybe a year away from peak performance. Watch out for Andrew Bailey, a Wagner-Staten Island product who throws in the 97-99 range with an absolutely evil breaking ball and changeup to back it up.
April 22: Yankees 9, A's 7 – 14 innings
We got away with one today.
Sabathia was sloppy throughout this game. The defense was shaky, and the hitting was the very opposite of timely. Posada vacated home plate with Giambi on third in the third inning, forcing Jeter to throw to nobody and allowing the only unearned run of the seven charged to Sabathia to score.
In the bottom of the seventh inning, in a 7-7 tie, the Yankees loaded the bases with nobody out – only to be beaten by Russ Springer's AARP Card, who struck out Cabrera and induced two pop flies to escape unscathed and force a little bit of overtime…
(Sorry, wrong sport…my head is in the hockey playoffs a little bit.)
Today's hero was Jose Veras, of all people, who pitched 3.1 scoreless innings and seemed to finally find his command after a couple of ineffective outings on the road and the first loss against Cleveland on Thursday. Veras walked the first batter he faced and then retired ten in a row, taking the Yankees all the way through the 14th in a game where they were nearly out of relievers. Steven Jackson was set to make his debut in the 15th before Melky Cabrera hit his second home run of the day—a rocket off a first-pitch fastball from Dan "Hey You" Giese – to win it in the bottom of the 14th.
Giese had walked Nick Swisher to lead the inning off by throwing seven straight breaking balls. Everyone in the stadium and TV audience knew the first pitch to Melky was going to be a fastball. Melky probably had the same idea.
On to Boston with plenty of momentum. What could possibly go wrong?
April 24: Red Sox 5, Yankees 4 – 11 innings
"The worst panics ensue when the things we take for granted stop working for just a minute." – Leo McGarry, The West Wing, Season 3, Episode 8.
Part of Mariano Rivera's new approach to right-handed batters this year has been throwing his cutter to the inside corner for mostly called strikes. The one danger to this approach is that if you miss your spot, just by three or four inches, the ball cuts right to the middle of the plate, likely belt-high. That was the location of the pitch that Jason Bay hit to dead center field to tie the game in the bottom of the ninth inning. Rivera missed.
It literally happens to the best of us. Now, everyone stop freaking out.
Remember that very disconcerting statistic from the Daily News piece that I teased in the opener? Here it is: Joba Chamberlain threw 91 pitches on Friday night. Only two of them were swung at and missed. Because he's holding back to conserve his energy and work deeper into a game, he's throwing five miles slower than he did coming out of the bullpen for an inning or two at a time.
His fastball is, sadly, ordinary at 91-92 miles per hour, and there's less of a gap in velocity between that and his breaking ball, so he's not as effective.
When the Sox swung, they hit the ball. That's not the Joba we're used to. I'm done talking about this until after Hughes pitches tonight.
April 25: Red Sox 16, Yankees 11
A 6-0 lead in the fourth inning disappears after Jason Varitek's Desiccated Corpse hits a grand slam. My dreams of an incredible pitcher's duel between the two ex-Marlins, Josh Beckett and A.J. Burnett, are dashed.
Very, very dashed. And it only gets uglier from here.
9-8 Boston after six innings. Both starters are done. Now we get to see how the bullpens stack up. The Yankees break through for two runs against Manny "Kinda Being Manny" Delcarmen. 10-9 Yankees going into the bottom of the seventh. Which Yankee bullpen shows up? Mr. Hyde. To the tune of seven more runs in two innings.
Albaladejo is the goat today. Bruney is unavailable, placed on the disabled list with an elbow, and between Edwar Ramirez, Damaso Marte, and Dave Robertson, the Yankees just barely get through the eighth inning without just saying "Uncle!" already. The only Yankee reliever not to give up a run is Phil Coke. Coke pitched in the sixth, got two outs, and likely got replaced too early.
Know what would be nice? If we had a lights-out reliever who scared the hell out of everyone, that we could trot out for two-plus innings if we desperately needed to hold a lead against our most hated rival. Michael Kay, do you still think having a quality fifth starter is more important than a quality setup man?
I'm really done talking about this now, really.
April 25: Red Sox 4, Yankees 1
Jacoby Ellsbury is a freak, in that good way that infuriates opponents. The chutzpah of stealing home with the bases loaded notwithstanding, it was the first time he scored, in the third inning, that made me a little crazy.
This guy is so fast that facing pickoff-master Andy Pettitte, with a short lead, he still managed to steal the a base easily. From there, Pettitte's concentration was broken, just enough to make the difference. I have to give the guy credit. He single-handedly won that game for Boston.
Also, Masterson looked like the real thing last night, in the way that Clay Buchholz did that one time he threw a no-hitter. The Red Sox are not likely to miss John Smoltz if he never shows up.
Big Picture: Nobody is scared of Toronto just yet, and the Rays may be going through a little bit of a postseason hangover. Alex Rodriguez is starting a rehab assignment this week, and our lineup will get longer and scarier when he returns. It looks, at this point, as if the battle for supremacy in the American League East is going to come down to baseball's oldest rivalry once again.
We got embarrassed this weekend, but Boston comes to town for two games next week (May 4-5). We have plenty of opportunities to make up lost ground. This weekend means nothing, really; it's just three bad games in April.
But I hate losing to the Red Sox.
Coming Up: Three against Detroit and four against the Los Angeles Angels of California, Nevada, New Mexico and the Federated States of Micronesia.