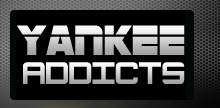 News published by
November 5, 2009
With all the cards now on the table, and the trophy safe in Derek Jeter's arms, the overwhelming majority of fans are going to remember 2009 as the year Alex ...
November 4, 2009
In the grand scheme of things, baseball is a kid's game. It makes heroes out of ordinary men. It makes celebrities out of lowlifes like Jose Canseco and John Rocker. It turns ...
November 2, 2009
I was going to wait until the World Series was over before I wrote a word. I wanted to know everything and stop making predictions from game to game, as it ...
October 26, 2009
Well...that was fast. My night of celebration ended about 15 minutes after I posted the last piece . Immediately, my mind started to shift to the new question at hand. How ...
October 26, 2009
He was as animated on the mound as we've ever seen him—and exactly the way we always remember him. For six-and-a-third innings and two-and-a-half hours Sunday night, Andy Pettitte turned back ...
October 23, 2009
Alex Rodriguez is having a career-altering postseason. Nick Swisher? Not so much. No matter whether he's hitting left-handed or right-handed, whether he's swinging at fastballs or breaking balls, whether the pitch is ...
October 21, 2009
It doesn't always take a historical, dramatic baseball game to clue a fanbase in on something special happening with their team. In the later years of the Joe Torre era, with ...
October 20, 2009
There was a scenario I forgot to mention at the end of the last column . If the Angels were able to come back from a big deficit and beat ...
October 19, 2009
In a season full of dramatic ballgames, the context of the drama of Game Two of the American League Championship Series can only be described as What We Have Come ...
October 16, 2009
Twenty minutes to go before Game One. I am sorry I left this so long, but I've had a lot to look at, and a long week at my real ...