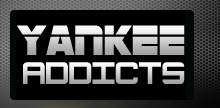 February 2, 2012 · Michael Moraitis · Jump to comments
Article Source: Bleacher Report - New York Yankees
After the New York Yankees brought in the likes of Hiroki Kuroda (free agency) and Michael Pineda (trade), they find themselves with excess pitching. It's a problem most teams wish they had and it's exactly the problem the Yanks currently have.
On the block are both A.J. Burnett and Phil Hughes.
Hughes is the more attractive piece of the two. He's a former top prospect of the Bombers and is only 26 years old with a small salary. Burnett, on the other hand, is a lot older and has had two very bad seasons in a row and costs much more than Hughes.
The only hope the Bombers have of moving Burnett is picking up more of his salary over the next two years of his current deal.
Putting the money aside, there are several teams out there who could use a starting pitcher and the Yanks have an extra few to spare. Here are 10 teams that fit that bill.